 The 137,000 festival goers heading to Glastonbury in a week's time will be relieved to hear the festival may not be a washout after all. Hurrah.
We don't want to jinx it, but the weather forecast is improving and meteorologists now predict next week will be full of sun. All the better for enjoying some of the Rolling Stones' 50-years worth of hits.
Daytime temperatures are expected to be around 19C, according to Weather Outlook, Accuweather and Jackone at Netweather.
However, there's no guarantee the ground on Michael Eavis' Worthy Farm will be dry, because moderate rain is still predicted at Glastonbury over the course of the next week, with a little more expected on Thursday.
Basically, it's worth still packing those wellies, even if it's just to fit in with the likes of Mick Jagger, who has confessed he will be wandering around the festival before headlining the Pyramid Stage.
Sir Mick, who turns 70 next month, plans to hang out with his family and have a "good time". In an interview last month, he told the magazine he expected people to be "pretty laid back" about seeing him out and about over the festival weekend.
He may even come across the "Jagger off", a tongue-in-cheek tribute to the Rolling Stones. More than 2,000 people have signed up on Facebook to take part in the mass dancing event, which will see fans emulating their musical hero by performing some of his trademark moves.
But whatever the weather we reckon we can all learn a few things from these people who have got it right at the festival over the years...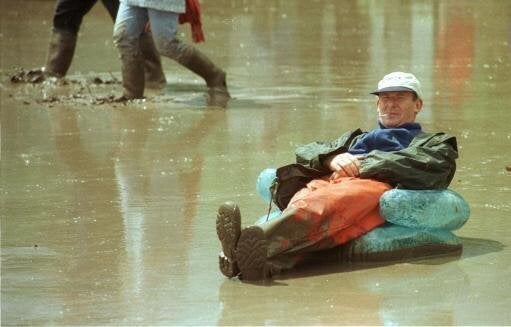 26 People Who Are Doing Glastonbury Right