Dilma Rousseff, the President of Brazil, will hold and an emergency meeting with her cabinet on Friday over the on-going demonstrations that have blighted the country's major cities for more than a week.
Despite concession made by the Government on Thursday, including a reversal of the controversial bus fare increase that sparked the protests, riots continued on Thursday evening in Rio de Janiero, Sao Paulo and many other towns and cities across the country.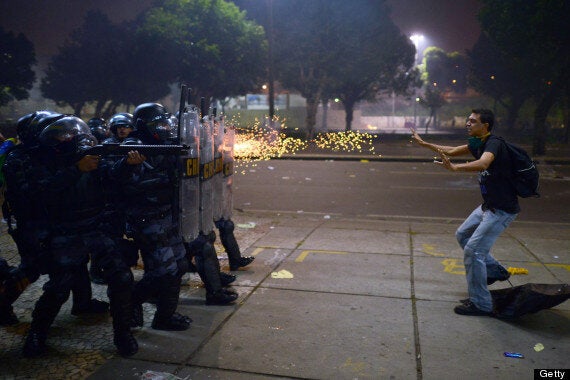 A demonstrator is shot by rubber bullets by anti-riot police in Rio de Janeiro
Many took to the streets calling for an end to corruption and police brutality, while placards demanded improvements in public services, and bemoaned the costs of holding the World Cup and the Olympics – both of which are being paid for by the public purse.
More than 300,000 marched through Rio on Thursday evening; protesters clashed with police who responded with tear gas and rubber bullets. Cars were overturned, rocks were thrown and public buildings were attacked.
Around 80 cities witnessed demonstrations, with millions of citizens estimated to have taken part in the demonstrations. Violent clashes were reported across the country between the authorities and the anti-government protesters.
One protester was reportedly killed in Sao Paulo after a car careered into a crowd, while 40 people were reportedly injured in Rio. In Brasilia, government buildings were targeted and a fire was set outside the foreign ministry.
The country is currently hosting the Confederations Cup, a warm-up event for next year's World Cup. The demonstrations also come just a month before Pope Francis visits the country.
Related