Sir Ian McGeechan presented British and Irish Lions captain Sam Warburton with the match jerseys for Saturday's first Test against Australia in an "inspirational presentation".
He also had the privilege of coaching Britain and Ireland's premier rugby union players in the 1989 Australia success and loss in New Zealand 1993. In 2009, McGeechan returned to the post for the South Africa Tests as the Lions were narrowly beaten by the powerful Springboks.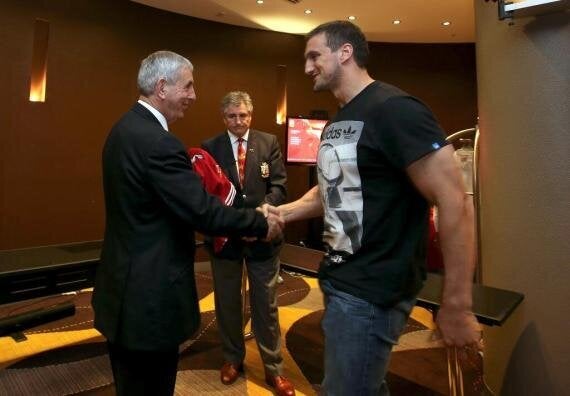 Warburton receives his jersey from McGeechan
The Scot played eight Tests for the Lions in 1974 and 1977 in the triumph against South Africa and defeat to New Zealand.
The shirt presentation is identified as a significant moment in rousing the Lions before their opening Test. Willie John McBride and Fran Cotton have performed the task previously.
Warburton, at 24, is the youngest Lions captain in history. The Welshman is also his country's youngest skipper and the youngest captain at a World Cup.
Popular in the Community