 Passengers on a 10 hour flight from San Francisco to London were left without toilet paper, after United Airlines decided against stopping to stock their supply.
Angry travellers were forced to improvise after stocks ran low and cabin crew told passengers to use other means.
Supplies of toilet roll were forfeited as the airline decided stopping to restock would have delayed the flight.
"If I'm paying for a ticket that should include the price of toilet paper I would think," said Holland.
Some cocktail napkins were put into bathrooms, with a label to say what they should be used for.
One passenger snapped a photo of the improvised toilet paper dispenser which made its way to the Flyer Talk message board under the user name "SFO_Runner."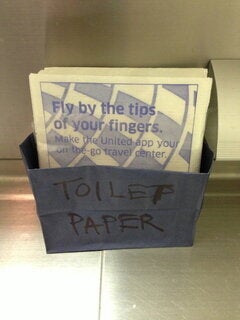 United later apologized for the incident, releasing the following statement: "We apologize to our customers on this flight for the inconvenience and would like the opportunity to welcome them back."