Paraded in front of the media for the first time in his 17 years and three months, Wayne Rooney uncouthly drank water from a bottle as Everton announced he had signed his first contract. Beside him, David Moyes whispered an order.
"I could hear Moyesy whispering beside me, 'Use the f*****g glass!' I just ignored him," Rooney recalls in his autobiography.
There are two chapters concerned with Moyes, titled "Trouble with Moyes" and "I Don't Want To Play For You Ever Again" in Rooney's 2006 book. Moyes is referred to as "Moyesy" throughout. The only Manchester United footballer who dared label Sir Alex Ferguson "Fergie" was Darron Gibson, one of the most unpopular players at Old Trafford amongst fans in recent years. Now his friend Rooney occupies that berth.
Rooney, according to Ferguson, requested a transfer for the second time in three seasons in May. Rooney's advisors privately refute that but Ferguson's admission, in the week he announced his retirement and hoisted one final Premier League trophy, ensured he had won another battle with Rooney. Moyes consoles Rooney after his poor performance at Goodison last year
Many clubs's support are victims of stigmas and United's has become synonymous with in-fighting in the post-Glazer age. Rooney, despite fluttering his eyelashes at Manchester City in 2010, is - or was - fortunate to hear his name hollered loudly because he ultimately scored the penalty which guaranteed the club's record 19th championship in 2011. For the majority at Old Trafford, owners ripping the soul from a club is irrelevant as long as the team continues to collect silver.
And that fickleness offers Rooney a second chance in M16. When Moyes was announced as Ferguson's successor the uninitiated immediately suggested this pushed Rooney further towards the exit when actually he was offered a door out of the departure lounge. Moyes did successfully sue Rooney in 2008 but the tension between the 27-year-old and Moyes - as well as Evertonians - has cooled.
The vitriol he was subjected to on his first two returns to Goodison Park in 2005 consisted of match sponsors abusing Rooney prior to kick-off in an FA Cup tie and the home support chanting "You're fat and you slap your bird" in a league fixture, referring to a false story in the Sun. Now Evertonians are indifferent about Rooney and Moyes' grudge is gone.
Moyes faces numerous challenges in succeeding Ferguson. Winning a first trophy, taking three points at Anfield and averting a post-Busby slump are just some of the unenviable tasks, but in Rooney he should relish a second crack of the whip and the chance to succeed where Ferguson failed.
Although one should not advocate feeling sympathy for Rooney, he has been messed around since he joined United in 2004. Off the striker, up top on his own, on the wing, in midfield, he was one of the main victims of Ferguson's irresistible knack for tinkering and in his meeting with the Scot he apparently asked to start in his preferred position. A reasonable request.
Ferguson even admitted after Cristiano Ronaldo left in 2009 he had to "change" Rooney's role in the team.
"In some games Wayne played wide left and in some matches it worked, but in others it was not a good position for him," Ferguson admitted in July 2009. "We will change that." Rooney and Moyes shake hands after United defeat Everton 3-0 in 2009
Rooney scored 34 goals in the 2009-10 campaign - his joint best with his 2011-12 return - but as a lone striker he was still effectively wasted. When signed by Ferguson the expectation was he would be deployed as United's number 10 behind Ruud van Nistelrooy or Louis Saha, however Ronaldo's emergence in 2006 resulted in him becoming the team's sacrificial lamb. At times his workhorse nature led him to full-back.
While Ferguson was culpable for Rooney's struggles at United, he is not accountable for the striker's alarming lethargy or fitness concerns, which prompted Rooney's demotion after last year's opening day disaster at Everton. Supposedly the motivation behind Rooney's 2010 transfer request was that United were not competing after a summer in which Chris Smalling, Javier Hernández and Bébé joined. Ironically he has cried wolf after Shinji Kagawa and Robin van Persie, two of the best attackers in Europe, signed.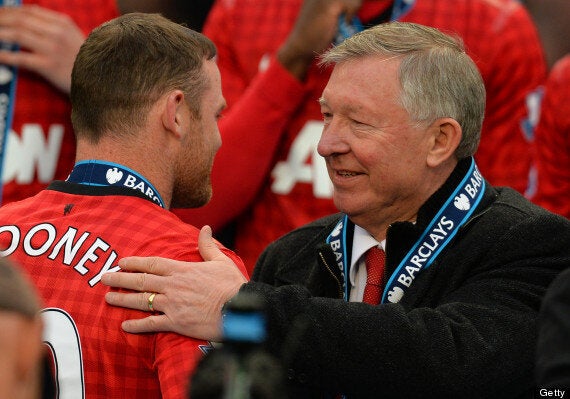 Ferguson maintains United don't want to sell Rooney
Ten years older and 10 years wiser, Rooney's on-field diplomacy suggests he would probably cringe at the memory of his rebelliousness during that press conference with Moyes. Their combustible exchanges when Rooney was a teenager (Moyes accused him of "eating too many f*****g McDonalds" on one occasion) were a symptom of the teen prodigy outgrowing a club and Moyes' desperation to keep him grounded. Rooney should appreciate the nurturing Moyes granted him.
Under Old Trafford's new Scot, Rooney could rediscover that raw edge which made him a genuinely petrifying player to face in his pomp before he passes his peak.
Rooney enjoys a genuine on-field rapport with Van Persie, who has been effusive about the Croxteth forward, and there is scope for Moyes to improve that partnership after the Dutchman dominated United's forward line last term.
But at United, he won't get away with calling him "Moyesy".
Popular in the Community