Edward Snowden's whereabouts remain a mystery after the NSA whistleblower failed to board a plane from Moscow, Russia to Havana, Cuba on Monday morning.
Journalists who boarded the delayed 2.05pm Aeroflot flight to Havana reported on Twitter that Snowden had checked in, and was due to sit in seat 17A, but did not appear.
Journalists who took the flight to Havana may have to stay in the Caribbean country for three days before they can return - and Aeroflot do not serve alcohol on their planes, to the glee of many other hacks left behind.
Snowden can stay in Sheremetyevo airport's "transit area" for an indefinite period.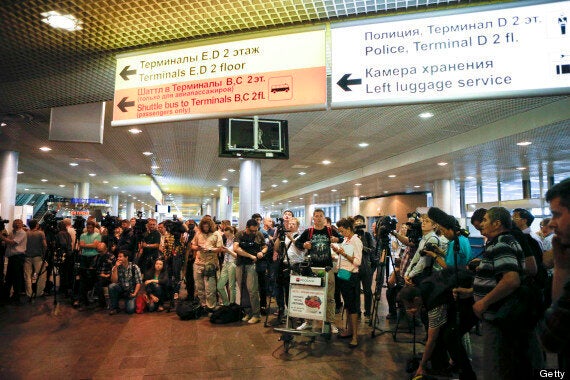 Journalists wait for the arrival of passengers from flight SU213, on which Edward Snowden, was reported to have traveled
His apparent departure from Hong Kong is believed to have had the blessing of Chinese authorities.
"The documents provided by the US Government did not fully comply with the legal requirements under Hong Kong law, the HKSAR Government has requested the US Government to provide additional information so that the Department of Justice could consider whether the US Government's request can meet the relevant legal conditions.
"As the HKSAR Government has yet to have sufficient information to process the request for provisional warrant of arrest, there is no legal basis to restrict Mr Snowden from leaving Hong Kong.
"The HKSAR Government has already informed the US Government of Mr Snowden's departure."
Bill Bishop, an American expert on China based in Beijing who runs the media round up Sinocism, said in his briefing on Monday: "Beijing can declare victory in the Snowden affair. Snowden's hacking exposes make the Obama Administration look hypocritical and his continued flight from US justice makes it look incompetent and impotent, almost like a paper tiger might appear."
The New York Times reported that authorisation to let Snowden leave came from the highest levels in Beijing who"will be relieved he's gone — the popular sentiment in Hong Kong and China is to protect him because he revealed United States surveillance here, but the governments don't want trouble in the relationship," a source told the paper.
According to Reuters, Snowden told his Hong Kong lawyer Albert Ho that an individual claiming to represent the Hong Kong government had contacted him and indicated he should leave the city, and wouldn't be stopped by authorities.