Pep Guardiola spoke of his "honour" at joining "one of the biggest clubs in the world" after being officially unveiled as Bayern Munich's new head coach today.
The 42-year-old Catalan, returning from his year-long sabbatical after four trophy-laden years with Barcelona, replaces treble-winning boss Jupp Heynckes in the Bayern hotseat and cannot wait to get started.
Speaking fluent German, Guardiola said: "I am ready. My time at Barcelona was wonderful, but I needed a new challenge and Bayern Munich gave me this opportunity.
"They are a club with great players and a great history and I chose Bayern because they are one of the biggest clubs in the world.
"There are few really special clubs in the world and Bayern are one of these clubs.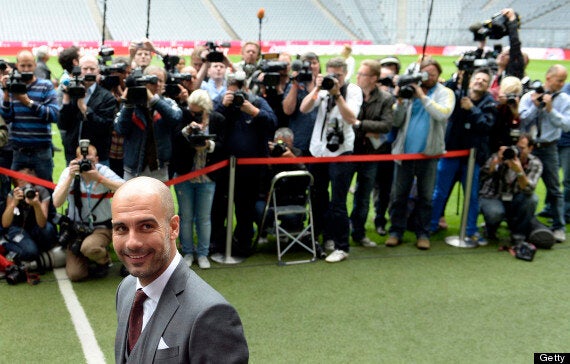 Guardiola arrives at Bayern's Allianz Arena
"When Bayern call you, it's a great honour and that is why I am here."
That call came last December, although Guardiola's move to Bayern had been in the pipeline for much longer, according to club chairman Karl-Heinz Rummenigge.
"We had been working on it for a long time to convince Pep to come to Bayern," he said.
"It started two years ago when we had the Audi Cup and (president) Uli (Hoeneß) and I drunk a coffee with him and we discovered he had a soft spot for Bayern.
"He liked the philosophy and the team and we've remained in contact with him, and it became more intensive over the last year when we were deciding who would be our coach from July 1.
"We're delighted, and proud to have appointed the most successful coach in the world, and Pep became that with Barcelona.
"From day one, we got the impression Bayern wanted Pep and Pep wanted Bayern."
When Guardiola's appointment was announced in January, it was not clear how successful Bayern's season would turn out.
Under Heynckes, the Bavarians went on to claim an historic treble of Bundesliga, DFB-Pokal and Champions League titles - becoming the first side in German football history to accomplish such a feat.
He therefore has some big shoes to fill, but is not fazed by the prospect.
"I've got to be able to live with it," he said. "In a big club, you always have a lot of pressure and I have a lot of pressure here, but I know this.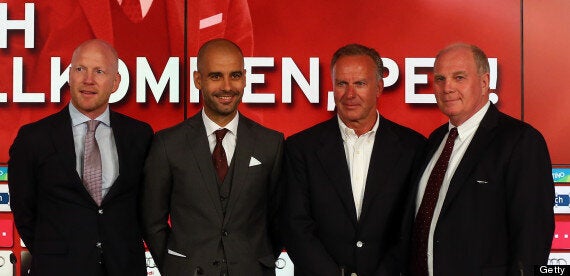 Matthias Sammer, Guardiola, Karl-Heinz Rummenigge and Uli Hoeneß
"But I am accepting this big challenge without a problem. That's why I'm coach.
"I am taking over a team who were extraordinary last season. They won four titles - three plus the Supercup - but, when you are coach of Bayern Munich, no matter what the situation is, you have always got to play well and have always got to win."
Replacing Heynckes is therefore less of a burden and more of an incentive for Guardiola.
"I have a lot of respect for what he achieved not only last season, but also throughout his extraordinary coaching career," he said.
"For me he it is a great honour to succeed him and I hope to maintain the level the team played at last season."
Guardiola, who arrived in Munich last night, will lead his first training session at the Allianz Arena on Wednesday.
The first two training sessions will be staged in front of 25,000 fans at the venue before Guardiola and his team get to work on preparing for the 2013/14 season at the club's Sabener Strasse training facilities.
Related