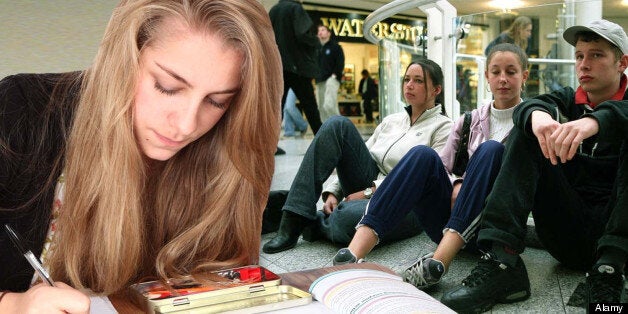 Britain's young people are being starved of jobs and spending years not working at all, a major study has revealed.
An average 15 to 19-year-old spends almost 2.5 years out of work - higher than many other countries - and many have simply "given up".
The Organisation for Economic Co-operation and Development (OECD) also said the UK had fewer people enrolled in education than most similar countries.
Business leaders warned of a "critical lack of skills', while the government admitted having young people out of work was "an enormous waste of talent."
Andreas Schleicher, the OECD's deputy director for education and skills, warned that the "biggest challenge" to the UK at this time is to help those youngsters who do not have decent qualifications and struggle to find work.
Overall, UK young people aged between 15 and 29 expected to spend 2.3 years on average either unemployed or out of the labour force entirely, the 2011 figures.
This is higher than in many other countries including the Netherlands (1.1 years), Iceland (1.2 years), Norway (1.3 years), Australia (1.7 years) and Germany (1.7 years).
Schleicher said that some of these youngsters could be unemployed and looking for work, but for others "out of the labour force could mean you've given up, more or less".
The UK also has one of the lowest percentages of 15 to 19-year-olds and 20 to 29-year-olds enrolled in education among OECD countries at 78% and 19% respectively, the report said.
And people with low levels of education are bearing the brunt of the economic crisis, with a wide employment gap between those who have a degree and those without.
Almost a quarter of 15 to 29-year-olds who do not have at least an "upper secondary education" - such as five good GCSEs - are considered "NEET" (not in education, employment or training).
But those with good GCSEs are far less likely to fall into the trap.
Neil Carberry, CBI director of employment and skills, said: "We're facing a critical lack of skills in key sectors which risks holding back long-term growth.
"UK competitiveness relies on a highly skilled workforce, so we cannot afford to waste talent."
A Government spokeswoman said: "Being out of work or education can be an enormous waste of a young person's potential.
"To tackle the problem the Government is funding a place in education or training for every 16 and 17-year-old who wants one, raising the participation age to 18, and investing in quality traineeships and apprenticeships."
Related