The London Underground's iconic 'Mind The Gap' message could soon become 'Fuel The Gap' if sponsorship deal with an energy drink and Transport for London is approved, a company is claiming.
Now high protein dairy drink Upbeat have said they are in talks over a six-figure deal that could see the safety sign changed to the beverage's slogan.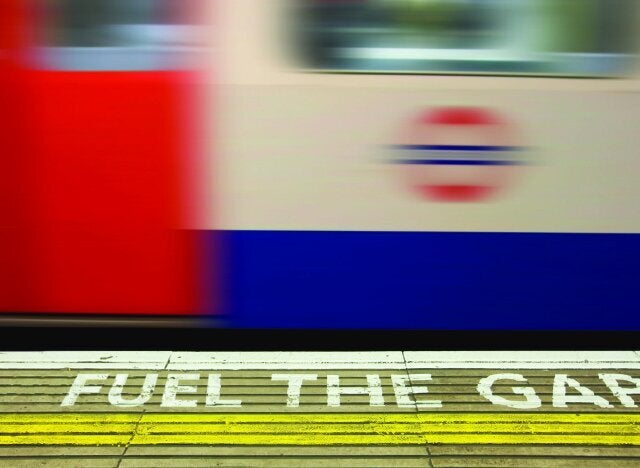 Fuel the Gap could replace the safety message 'Mind the Gap'
Ivor Harrison, General Manager at Upbeat said: "Talks are still ongoing but we are hopeful that a deal can be signed and that the money raised can be passed on to passengers either by cutting fares or by funding improvements to the service. Both of which will no doubt make commuting Londoners feel more upbeat!"
The report, authored by AM Gareth Bacon, called 'Untapped Resource: Bearing Down On Fares Through Sponsorship', claimed 82% of Londoners were in favour of more sponsorship.
However, London Underground said although it is currently reviewing its commercial sponsorship policy, it would not change "safety critical messages."
TfL told the Huffington Post UK: "We are not in talks with Frank PR over our 'Mind the Gap' message. This is a safety critical message and we have no intention of changing this for commercial sponsorship. We have been clear about this with Frank PR.
"We are reviewing our commercial revenue opportunities and will be publishing an updated Sponsorship Policy later this year but have no intention of changing Tube lines, station names or safety critical messages.""
"We already do deals short of actually renaming stations or lines, including giving over whole stations like Canary Wharf to advertising by one organisation.
"Every penny of this and our other revenue goes towards keeping fares as low as possible, while improving transport and supporting jobs and growth across the UK."