On his long walk to freedom, Nelson Mandela left footprints way beyond South Africa's borders.
Palestinian campaigners describe him as "totally inspirational", while he is also associated with struggles against oppression in Burma and pioneered an approach to tackling conflicts that is still in use today.
Once vilified by Britain's Conservative Right, Mandela has become a role model in the West, epitomised by Barack Obama's description of him as "a hero for the world".
Not all of his foreign dealings were beyond reproach, however. Obama: Mandela is 'a hero for the world'
His support for Muammar Gaddafi is evidenced by the fact that he named his grandson after the former Libyan leader.
But Alex Vines, head of the Africa Programme at the international affairs think tank Chatham House, said these were "dwarfed" by his record on human rights.
"The South African strategy was always about those who had helped in the anti-apartheid struggle," he told The Huffington Post UK.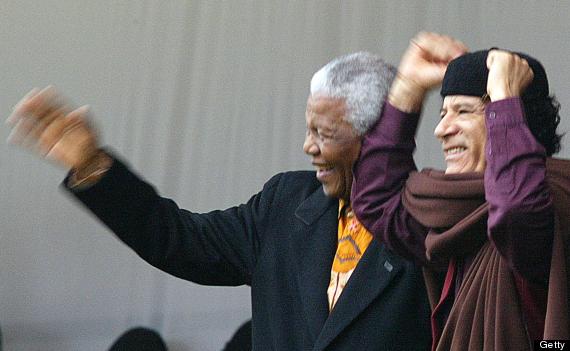 Mandela rejected calls to sever ties with Gaddafi
Mandela was "an absolute giant in terms of his stature," using his influence to broker peace deals, including in Burundi.
"The moral authority that Mandela carried is totally inspirational," Vines said, pointing to exiled leader Aung San Suu Kyi in Burma.
His approach of mediation as opposed to intervention is still in use by South Africa today, as shown by opposition to military involvement in Libya and fierce criticism of George W Bush's Iraq campaign, he said.
The Middle East conflict is perhaps the foreign policy area with which the former South African President is most closely associated.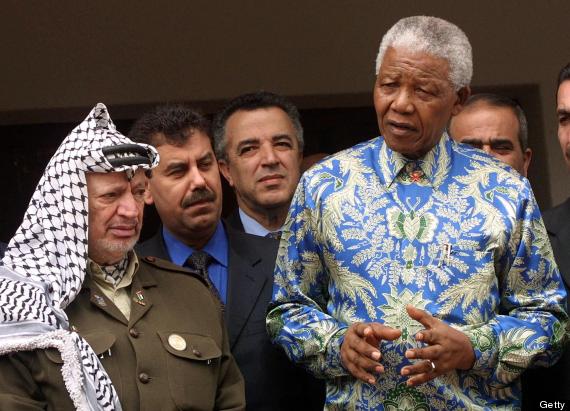 Mandela with Palestinian leader Yasser Arafat in 2002
Sara Apps, of the Palestine Solidarity Campaign, said Mandela, along with Archbishop Desmond Tutu, had been a key supporter of the Palestinian cause.
Tutu made headlines in 2002 when he controversially accused Israel of practising apartheid in its policies towards the Palestinians.
"Mandela has been totally inspirational through the whole campaign for justice in South Africa," Apps said.
"I think Mandela himself recognised the campaign for justice for the Palestinian people, and he said so himself.
"Also, he moved from being part of a campaign for freedom to being a campaigner for freedom to being a state leader, and that must be an inspiration to people."
In Britain, Tony Blair's Labour Party gave Mandela a standing ovation when he wowed its conference in 2000.
But there are plenty of politicians who were far less enthusiastic during the apartheid years.
Britain's Conservative Right, for example, has a more complicated relationship with the African National Congress founder.
The ANC was dismissed as a "typical terrorist organisation" by former prime minister Margaret Thatcher.
And the Federation of Conservative Students, whose past members include current Speaker John Bercow, made their views clear in the 1980s with their 'hang Nelson Mandela' badges. Thatcher said the ANC were 'terrorists'
When David Cameron took over as Conservative leader he sought to set the record straight, admitting in 2006 to "past mistakes" and describing Mandela as "one of the greatest men alive".
Peter Hain, a former British government minister who was raised in South Africa and has written a biography of Mandela, said the former president was "a glocal icon."
His influence on worldwide peacemaking stemmed from the way he showed respect to South Africa's white ruling elite, Hain said.
"Sri Lanka, Burma and Palestine are examples of conflicts that have not been solved, partly because their leaders have not been able to live up to Mandela's very high standards," he told The Huffington Post UK.
"He crosses boundaries, faiths and politics and has become this universal hero."