A pair of futuristic augmented reality glasses designed for cyclists have been made available for pre-order.
The awesome-looking glasses use an embedded screen to display information to cyclists such as speed, direction, heart rate and power output.
They also integrate with smartphones to show incoming calls and text messages, and allows users to update social networks hands-free.
While they might sound similar to Google Glass, the beta 'wearable computer' currently being trialled by everyone from tennis players to HuffPost, it's more similar to Recon's current smart skiing goggles which also feature a heads-up display and integration with smartphones.
But the Jet is a more advanced product in many ways. Its hands-free operation makes it easier to operate on the move, while the range of on-board sensors provides a more extensive range of precise data.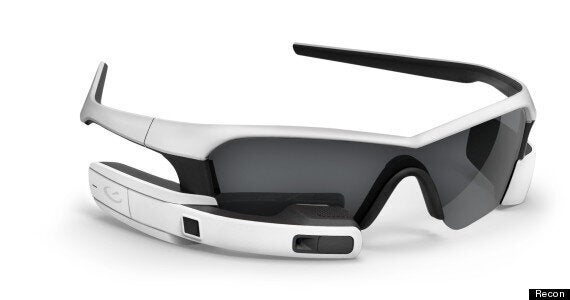 Recon said it will make the Jet SDK available for developers early to help spur the creation of apps to use with the device.
Dan Eisenhardt, CEO of Recon Instruments said:
"We are proud to be launching Recon Jet for pre-sale. Since introducing our first HUD for snow sports in 2010, we have been working tirelessly to create a high-performance sports sunglass HUD. Recon Jet is the culmination of that effort.

"We introduced Recon Jet to the developer community at the Google I/O tech conference last month. To say the response exceeded our expectations would be a massive understatement. Now, with this first edition of Recon Jet and our soon-to-be-released SDK, we look forward to developers unleashing their creativity to build amazing apps for Recon Jet."
The pre-order version of the Jet is available now for $499 (£325) at Recon's website, but the price will rise to $599 after the end of the Tour De France. Get in their now, early adopters.