£80 million in debt and with the purse strings padlocked, in 2003 Chelsea were on the brink of financial meltdown.
Jesper Gronkjaer's curling winner on the final day of the 2002-03 season against Liverpool not only guaranteed Champions League qualification, but possibly saved the club from succumbing to the same fate that ultimately befell Leeds United.
It could have been Liverpool. Had they won what was effectively a fourth-place play-off match they would have retained their Champions League status.
Roman Abramovich was infatuated with the competition as far back as 10 years ago. Manchester United and Real Madrid's 2003 quarter-final second leg mesmerised the Russian, in attendance at Old Trafford. The Russian, so the legend says, decided he would buy a football club on the back of the tie.
United won 4-3, but the tie had descended into a glorified exhibition match. Madrid, leading 3-1 from the first leg, opened the scoring through Ronaldo and the Brazilian struck again shortly after the interval to douse the flames ignited by Ruud van Nistelrooy's equaliser. However, the Brazilian's hat-trick - and David Beckham's two-goal cameo - brought an air of majesty to Old Trafford and Abramovich was sold. So too, would Chelsea be soon.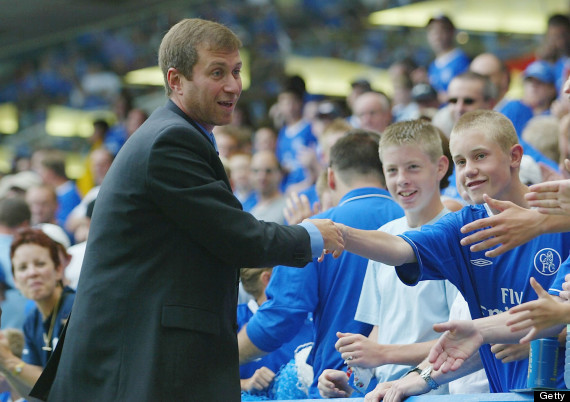 One Chelsea fan was appalled when the news arrived.
"I think it's disgraceful because I always thought that Ken Bates was Mr Chelsea," he anonymously told BBC News.
Chelsea had prospered under Bates. They won the FA Cup, the League Cup and the European Cup Winners' Cup in back-to-back seasons during the late 90s and only bowed out of an absorbing 1998-99 Premier League title race at the penultimate hurdle.
Often touted as title challengers in pre-season, Chelsea were, ultimately, always pretenders. Manchester United and Arsenal shared a duopoly of the league for seven years.
In 2002, Enrique de Lucas was Chelsea's only signing - on a free - arriving from Paris St-Germain. In 2003, the Blues spent £103.05 million on 10 players and finished second.
It wasn't enough to save the benign dead man walking, Claudio Ranieri. Chelsea appointed a ruthless, rule-bender in José Mourinho, fresh from Champions League glory, spent £91.05m on seven players and won their first title in 50 years, losing just one league game.
The dominance many expected has not quite materialised, though. Chelsea have become synonymous with instability under Abramovich, whose era has taken in nine different managers. Carlo Ancelotti was sacked a year after he guided the club to their first double and Roberto di Matteo, an appeasement appointment, was fired six months after winning the FA Cup and Champions League.
Europe remains elusive, despite the 2012 miracle in Munich. Chelsea's knockout football, their home win against Napoli aside, was a flukey version of catenaccio. Abramovich yearns for a European win a la Pep Guardiola's Barcelona, only Guardiola's morals prevented him from supping from the poison chalice, so the Russian has returned to Mourinho.
Three league titles, four FA Cups, two League Cups, a Champions League and a Europea League later, Chelsea are a different beast. Disliked pre-Abramovich due to their Headhunters' Loyalist faction and the shallow snootiness, money has intensified the hatred, but Abramovich remains reclusive, unconcerned by perceptions.
Like Heysel, Hillsborough and Rupert Murdoch, Abramovich has changed football. The avoidable tragedies in Belgium and Sheffield led to football becoming over-sanitised and plasticised, while the Sky's seminal coverage has plunged English football into a commercial quagmire it doesn't want to get out of.
Once an earthy capital club, Chelsea now unabashedly embody the hallmarks of modern football's ills. Their supporters have carped on over the sacking of a coach for a few days before realising they would rather not lose their billionaire owner on numerous occasions. Protests over Mourinho's departure were half-hearted.
Although the first transfer window came in 2002, Chelsea's spending has augmented the hysteria and frenzy of deadline day. To paraphrase The Great Gatsby, the egos were higher, the changes were broader, the morals were looser, and the tickets weren't cheaper.