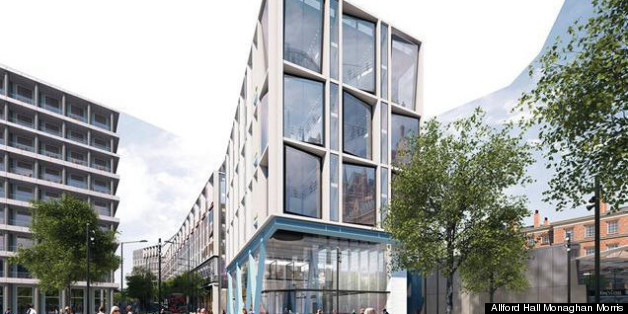 Allford Hall Monaghan Morris
Google has issued the first renders of its new £1.04 billion London HQ, set to be built next to King's Cross station.
According to the drawings, spotted by The Verge, the Allford Hall Monaghan Morris-designed office complex would be 11 storeys high and at least 330 meters long.
The ground floor of the completed would be given over to shops and restaurants, while the rooftop would comprise an extensive garden. The Google office would be situated on one side of the new King's Boulevard road, which will join the station to Granary Square and the Regent's Canal.
The plans have now been submitted to Camden Town Council for inspection.
If approved, the new HQ would be complete by 2017. Head over to Building Design Online and register to see a full gallery of the new HQ.
The architects explained their vision in a press release issued in January:
The project responds to Google's desire for a design that through innovation optimises resources to create a highly flexible, productive and healthy working environment that minimises its environmental impact in construction and use.

Google's new workplace sits upon a retail plinth punctuated by three generous light filled volumes. These entrance halls serve up and into a looped three dimensional promenade that wraps its way along, around, through and up the building's six to ten office floors, connecting cycling ramps, cores, workplaces, major shared amenities and a large roof garden in an easy and enjoyable journey that encourages encounter. Within the city the importance of this promenade is clearly expressed in the building's volumes, articulating a conversation between the world within and the city beyond.

The new building is on a 300m (1000ft) tapering plot that rises to the north and is defined by King's Boulevard, which runs near parallel to the railway cutting, connecting Granary Square to the north with Battle Bridge Place to the south."