Equal marriage reforms will allow gay schoolchildren to "stand a little bit taller", David Cameron said as he heralded the 2013 Pride in London parade. The Prime Minister told how he hopes youngsters would be able to see that Parliament "believes their love is the same as anyone else's love" as thousands of people prepare to descend on the capital on Saturday for the annual gathering.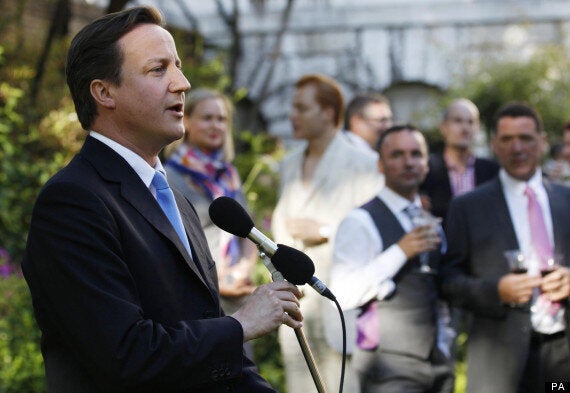 Cameron addresses guests at the Gay Pride reception at 10 Downing Street in 2010
Organisers expect the parade and festival to be the biggest lesbian, gay, bisexual and transgender event in London over the last decade. Among the sponsors is Mayor of London Boris Johnson, who caused a stir after making a controversial joke at a gala dinner for Pride in London about gay men taking their husbands "up the Arcelor" - a reference to the ArcelorMittal Orbit sculpture in the Olympic Park.
The parade will travel through the heart of London, along Oxford Street and Regent Street before ending up on Whitehall, and will be followed by events across the city. Writing in the official Pride guide, Cameron said: "There will be girls and boys in school today who are worried about being bullied and concerned about what society thinks of them because they are gay or lesbian.
"By making this change they will be able to see that Parliament believes their love is the same as anyone else's love and that we believe in equality. I think this will enable them to stand that bit taller, be that bit more confident and I am proud of that."
Deputy Prime Minister Nick Clegg wrote: "Many straight people have argued for the reform [of equal marriage] with as much passion as gay people. Why? Because this isn't just about technical changes or legal definitions. It isn't just a 'gay issue'. It's about the kind of society we wish to be."
Labour leader Ed Miliband said there is "still more to be done" to change attitudes. He added: "Too many young people still fear to come out at school due to bullying. In too many places in the world, it is still a crime to be gay." Organisers said around 150 groups are involved in this year's parade and urged visitors to join in the celebrations.
Michael Salter, chairman of Pride in London, said: "London is an amazingly diverse city attracting the most talented people from across the world, which is vital to the economic welfare of our city. Pride in London is a great opportunity to promote a charity or community group and campaign. This year the theme is Love (and Marriage) to celebrate civil partnerships, parents' love for their children, love of friends and family but it also recognises the Equal Marriage bill going through Parliament."
Johnson, who has provided London LGBT and Community Pride with a grant worth up to £500,000 to stage the event in 2013 and develop it over five years, said: "As befits a city with a large LGBT population, London hosts one of the biggest events of the year and I am delighted to support the festivities, which attract people from across the UK and beyond.
"As the parade shows, it is a diverse and multi-faceted community, which makes an enormous contribution to our city's success, socially, culturally and economically. We should be very proud of London's reputation as a place where LGBT people can be open about who they are.
"Our city has been at the forefront of the drive towards equality, but let's not rest on our laurels - of course more needs to be done to tackle prejudice and discrimination. This means standing up against homophobic bullying in the workplace, schools and elsewhere. My team works closely with the police in its efforts to combat homophobic hate crime and I would always urge anyone who experiences any hate crime to report it.
'At the same time, this year has signalled real change, with the Bill that would lead to marriage equality taking a significant step forward earlier this month. We are not there yet, but it is clear that public attitudes towards same sex marriage are changing, which is a cause for celebration."
Related