David Cameron became the first serving prime minister to visit Kazakhstan as he began a visit to the mineral-rich country with hopes of boosting British trade.
But the prime minister confirmed he would raise allegations of human rights abuses when he holds talks with president Nursultan Nazarbayev.
Discussions are set to focus on trade and using Kazakhstan as an exit route for British equipment as combat forces withdraw from Afghanistan.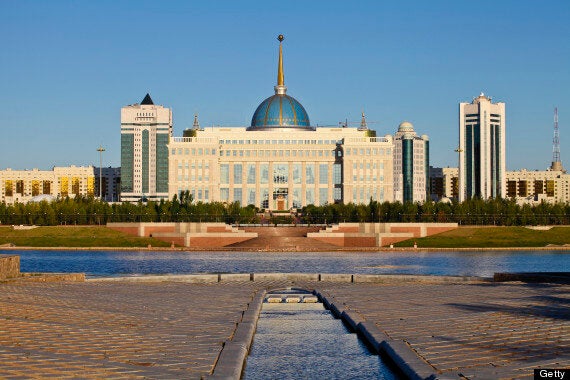 The presidential palace in Kazakhstan
Cameron follows in the footsteps of former prime minister Tony Blair who has played a key role in helping Kazakhstan's development since leaving office.
Kazakhstan's foreign minister Erlan Idrissov said: "We are very honoured and privileged to have such attention on the part of two prime ministers (towards) Kazakhstan - Tony Blair and David Cameron."
He added that "we cherish and enjoy the support of developed countries" on the path to development.
But campaign group Human Rights Watch has condemned Nazarbayev's regime.
Nazarbayev has been in power since the Soviet era and has led the country's economic transformation on the back of its mineral wealth, but has been labelled a dictator by critics.
An open letter to the Prime Minister, signed by Human Rights Watch's UK director David Mephan, said the group had been documenting human rights abuses in Kazakhstan for over 15 years.
"We are very concerned about the serious and deteriorating human rights situation there in recent years, including credible allegations of torture, the imprisonment of government critics, tight controls over the media and freedom of expression and association, limits on religious freedom, and continuing violations of workers' rights."
Amnesty International UK's head of policy and government affairs Allan Hogarth said: "Kazakhstan might be knee-deep in oil and gas wealth, but David Cameron shouldn't let lucrative energy deals prevent him from raising human rights during his trip."
The prime minister said the issue would be on the table during the talks.
He said: "On human rights, in all the relationships we have, there's never anything off the table, we raise and discuss all these issues and that will be the case in Kazakhstan as well.
"I think it is important to make this visit and it's very much something I chose and wanted to do.
"Kazakhstan is one of the rising economic powers in the world. I think it's very important that British business, British investment and British firms get a proper chance in Kazakhstan, they're doing that, I want to help them to do that.
"Other European leaders have been and I think it's high time a British prime minister went."
He added: "We are in a global race, I want Britain to compete and succeed in that global race and you can't do that unless you help British business in all the key markets and this is a very key market."
A No 10 source "We are playing a bit of catch-up really because quite a lot of the fellow European leaders have been visiting Kazakhstan for years."
Idrissov said Kazakhstan was aware of criticisms about the country's human rights record.
He said: "We are a young nation so we are making our first steps. We do hear criticisms.
"We do not feel absolutely unhappy about those criticisms. We patiently explain to our partners that we are not today a Jeffersonian democracy and that a Jeffersonian democracy is our ultimate destination."
British perception of Kazakhstan has been coloured by the Sacha Baron Cohen character Borat.
Cameron said: "As for the film, I did see it, it was a long time ago."
But he echoed the words of Idrissov, who said "as we survived Stalin then we are definitely going to survive Borat".
A spokesman for Tony Blair said: "As is well known, we work to support the Government of Kazakhstan on key areas of social, political and economic reform including rule of law.
"This work is entirely in line with the work of other international organisations (for example OECD and the EU) and Western governments and follows the direction which the international community wants Kazakhstan to take."
The spokesman said that a two year contract "funds a team of high calibre experts in London and Kazakhstan and Tony Blair does not take a personal profit from this".
Cameron said business deals worth more than £700 million would be signed on the trip.
But he added: "Nothing is off the agenda including human rights and Britain always stands up for human rights wherever we are in the world."
Stressing the economic benefits of the visit for the UK, he said: "Why am I here in Kazakhstan on a Sunday?I'll tell you why.
"We are in a global race for jobs and investment. This is one of the most rapidly emerging countries in the world.
"I have over 30 British businesses with me. We're hoping to sign over £700 million worth of deals.
"That means jobs back at home and also investment in this rapidly growing economy.
"That's what this is about. But of course nothing is off the agenda including human rights."
He did not accept the claim he was putting trade before human rights.
Cameron insisted: "We will raise all the issues including human rights.
"That's part of our dialogue and I'll be signing a strategic partnership with Kazakhstan.
"We need for Britain to get out there and win.
"We need our businesses to win. We need that growth and investment. Countries like Kazakhstan are rapidly growing and one day will be among the top 10 producers."
Nazarbayev laughed off David Cameron's late arrival in his country.
Cameron, who was more than an hour late after delays in his flight from Pakistan, became the first serving Prime Minister to set foot in the country.
President Nazarbayev told him after waiting 20 years for an official visit by a UK premier he was "quite willing to allow the short delay".
Speaking at the opening of the giant Bolashak oil production plant Cameron said: "As I was delayed in my flight from Pakistan I landed and I said I was sorry to the President for being an hour late.
"He said as he had waited 20 years for the visit of a serving British prime minister he was quite prepared to allow me that small delay."