Payday lenders are failing to live up to the "spirit or the letter" of codes they signed up to last year and must do "so much more" to protect vulnerable customers, ministers will warn on Monday.
Short-term loan firms, regulators, charities and Government ministers will be brought together today to tackle "deep-rooted" problems across the industry.
Consumer Minister Jo Swinson will warn firms the Coalition continues to have serious concerns about payday lending as she launches a review into industry guidelines at the central London summit.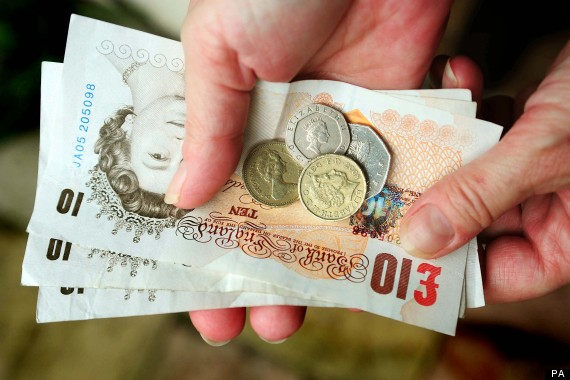 Payday loan companies often charge incredibly high intrest rates
The meeting comes days after the sector was referred for an in-depth investigation by the Competition Commission and will look at whether more can be done to clamp down on bad practice.
It's investigation will take up to 18 months and it has powers to ban or limit products and shake up whole markets.
Ms Swinson said: "Evidence of significant widespread problems in the payday market is concerning. Earlier this year we and the regulators announced a strong action plan with immediate and longer term measures. Today we will be taking stock of progress and looking at what we do next to better protect consumers and address these problems.
"I have long had specific concerns about the advertising of payday loans and my department has commissioned research to look into the effect of payday lending advertising on consumer behaviour. My department will be publishing the research in the autumn.
LIKE HUFFPOST UK POLITICS ON FACEBOOK | FOLLOW US ON TWITTER
"The Office of Fair Trading will update the summit on the tough enforcement action they have been taking including the referral to the Competition Commission which highlights the widespread nature and seriousness of these problems. Also the Financial Conduct Authority will give a flavour of what their rulebook might contain and how they might regulate the market from 2014.
"But the industry needs to do so much more to get its house in order, particularly in terms of protecting vulnerable consumers in financial difficulty. I am concerned that the lenders are not living to the spirit or the letter of the codes of practice that they signed up to last year.
"This is why I will be launching at the summit a survey to review the effectiveness of the industry codes and customer charter. I expect to hear more on what they are doing to make sure consumers aren't taking out loans that aren't right for them."
The Office of Fair Trading (OFT) referred the £2 billion industry to the Commission last Thursday, saying it fears that consumers who cannot afford to pay their loans back on time are finding themselves trapped with one firm when their loans are rolled over.
It is also worried that firms are emphasising the speed of the loan over cost and that the pressure to hand loans out quickly may encourage lenders to "skimp" on affordability checks.
During its investigation, the OFT found language used by lenders to reel in customers included the phrases: "Instant cash", "Loan guaranteed" and "No questions asked".
The OFT described the problems as "deep-rooted" and said some firms' business models appeared to be based around customers taking out loans which they are forced to roll over because they cannot afford them. This then leaves the customer trapped with that firm because they would struggle to switch to anyone else.
Up to half of lenders' revenues were found by the OFT to come from the extra charges and interest coming from loans being rolled over.
The payday sector has come under heavy criticism from debt charities, which have accused lenders of being "out of control".
New regulator the Financial Conduct Authority, which has powers to step in quickly and stamp out problems, will oversee payday lenders from next April. Its powers would enable it to place a possible cap on interest rates and limit or ban the number of rollovers lenders can offer, if it sees fit.
The OFT has written to 50 payday lenders in waves, giving them 12 weeks to prove they are up to scratch or risk being put out of business.
So far, 20 responses have been received and the rest are expected by the end of July. Of the lenders contacted, five have told the watchdog that they have left the payday market, including two which have surrendered their licences.
The OFT has promised to "crack down" on lenders that break the rules and if it finds they are still non-compliant it can stop them instantly in their tracks by suspending their licences, which they need in order to trade.
Lord Freud, Minister for Welfare Reform, said: "The unscrupulous practices of some payday lenders can place vulnerable people at risk.
"I am concerned about some companies using Continuous Payment Authority (CPA) to access borrowers' bank accounts inappropriately and excessively. I am determined that payday lenders should not be able to misuse this system to recoup funds from vital benefit payments that should be used for essential spending, such as utility bills and rent.
"We are working hard to end financial exclusion, which is often the reason people turn to payday lenders. We are investing £38m in credit unions to provide a good value alternative to help people save and access loans if they need them.
"I hope this summit will address some of the problems with the industry, so lenders can meet their obligations to their customers."
Chris Leslie MP, shadow Treasury minister, said: "Urgent action is needed to grip the regulation of the payday loan industry, as the number of cases of misery and hardship are growing rapidly because of pressures on living standards and personal finance.
"The Government have consistently ducked clamping down on predatory pricing and extortionate interest charges - despite Labour securing an amendment in the House of Lords last year which gives regulators the ability to control costs and loan duration.
"Instead of resisting action now, ministers should use their summit meeting to announce steps which prevent vulnerable customers from being fleeced so unfairly. When the OFT have found that half of the profit for these firms is generated from roll-over loans, we also need action to prevent people becoming ensnared in very high interest personal debt year after year."