Milk as well as meat from cattle infected with bovine tuberculosis (bTB) may have entered the UK food chain.
Last week a farmer was fined nearly £52,000 for selling milk from cows that had tested positive for the disease, reports the Telegraph.
Although pasteurised milk should pose no threat the increasing trend of people drinking it 'raw' means there is a small likelihood the disease could be transmitted this way.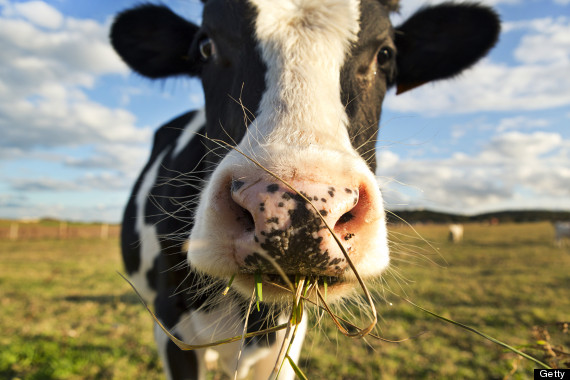 Tesco does not stock meat from infected cattle due to 'public-health concerns'
In the past before pasteurisation, drinking infected milk was a common cause of catching bTB.
This weekend it was reported meat from cattle that had tested positive for the infection was being sold by the government.
Despite being banned by a number of retailers and burger chains, raw meat from around 28,000 infected animals is traded each year.
The department for environment, food and rural affairs, Defra, insisted the meat posed no risk to health.
LIKE HUFFPOST UK POLITICS ON FACEBOOK | FOLLOW US ON TWITTER
A spokeswoman said: "All meat from cattle slaughtered due to bovine TB must undergo rigorous food safety checks before it can be passed fit for consumption.
"The Food Standards Agency has confirmed there are no known cases where TB has been transmitted through eating meat and the risk of infection from eating meat, even if raw or undercooked, remains extremely low."
Meat from infected cattle is not marked in any way to distinguish it.
The Sunday Times reported that Defra's reassurances contrasted with experts' warnings, which have said rising levels of bTB in cattle are becoming a serious threat to human health.
Such claims have been used to justify a cull of tens of thousands of badgers, which, are said by some, to help spread the disease between cattle.
It has also been reported people could catch TB from their cats as many as 100 out of every 100,000 carry the disease.