People with a persistent cough should see their GP early in case it is a sign of lung cancer, health chiefs said.
Almost 24,000 people a year in England receive a lung cancer diagnosis when the disease is at a late stage, with only around 15% of cases diagnosed at the earliest stage, when treatment is most likely to be successful.
A new phase of the NHS Be Clear on Cancer campaign is launched today to improve awareness of the signs and symptoms of lung cancer and encourage people with a persistent cough to see their GP early.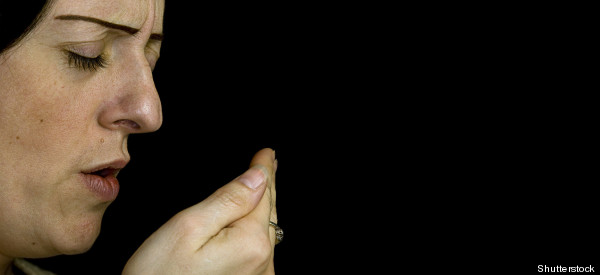 Analysis shows that people diagnosed at the earliest stage are five times more likely to survive lung cancer for at least five years than those diagnosed at a late stage.
New data shows that almost three-quarters (73%) of people are unaware that lung cancer is England's biggest cancer killer, and 40% of people are unaware that a cough that has lasted three weeks or more is a potential symptom of lung cancer.
Professor Kevin Fenton, director of health and wellbeing at Public Health England, said: "These figures show that more needs to be done to raise awareness of the signs of lung cancer and ultimately save more lives.
"The results from the previous campaign are really encouraging but awareness levels of a persistent cough as a symptom of lung cancer are still low.
"Only by increasing awareness of potential symptoms, and encouraging people to visit their doctor sooner rather than later, will we see the number of early diagnoses, and people surviving the disease, start to rise."
The campaign is aimed at men and women over the age of 50, as they are most at risk. Almost a fifth (19%) of this group admits they have not visited their doctor in the past when they have had a persistent cough. The majority thought it would clear up on its own.
MORE ON HUFFPOST UK:

'Superfoods' Shown To Fight Prostate Cancer

Could You Spot The Signs Of Ovarian Cancer?
Health Secretary Jeremy Hunt said: "More people die from lung cancer than any other cancer in England, but many people don't know the signs and symptoms that could save their lives.
"The message from this campaign is clear - if you have a persistent cough, go and see your doctor. The earlier lung cancer is diagnosed, the more likely that treatment will be successful.
"I am committed to improving cancer survival rates and have set out an ambition to save an extra 5,000 lives every year by 2014 - getting people diagnosed early is one part of our drive to have the best cancer services in the world."
Sean Duffy, national clinical director for cancer at NHS England, said: "Awareness campaigns like this are especially important in getting people with potential symptoms into doctors' surgeries.
"During the regional pilot, trusts within the campaign area saw a 14% increase in lung cancer cases diagnosed compared with a year earlier, whereas there was only a 4.7% increase in trusts outside the pilot area.
"However, more needs to be done for our survival rates to be as good as the best in Europe. If they were, it is estimated that around 1,300 deaths could be avoided each year."
The campaign will see advertisements featuring real GPs on TV, print and radio from today until mid-August. Face-to-face events will also take place in a number of shopping centres.