More than 70 firefighters were called to tackle a blaze at a three-storey house in Kensington, with smoke rising so high it was visible from Heathrow airport.
A mother and daughter were forced to flee from a neighbouring property when their roof also caught alight.
London Fire Brigade said that 10 fire engines were dispatched to the fire at a house undergoing renovations on Campden Grove, Kensington. A basement extension is believed to have been being carried out.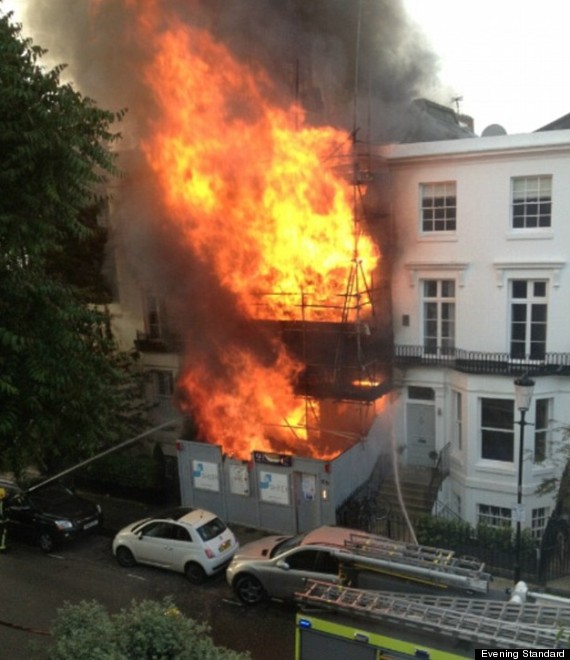 The blaze at a three-storey house in Kensington, west London
Many social media users at Heathrow, more than 13 miles away, tweeted that they could see the smoke.
@ChrisBellDJ really not a small fire, there's ash all the way up Kensington Church Street and you could see the smoke from Heathrow!

— Rhiannon Litterick (@RhiannonLitt) July 2, 2013
Woke up to the smell of a bonfire. Moaned about said bonfire. Turns out the house behind my flat is on fire o_0 oops http://t.co/WUpuXfrMjb

— kt bagley (@cabbagesalad) July 2, 2013
London Fire Brigade station manager Rhodri Horton said in a statement: "When crews arrived they were faced with a rapidly developing fire affecting the whole of a three-storey house under refurbishment.
"Firefighters are working hard to bring the fire under control.
"A mother and a daughter from a neighbouring property escaped into their garden.
"Fire crews used a ladder to get them over a fence and away to safety. Thankfully, they were both uninjured."
The London Fire Brigade has confirmed the fire is now under control.