Score like an Egyptian? Well Stamford Bridge could have a new chant if Stephan El Shaarawy, owner of the spikiest haircut since Marek Hamšík, makes a £30 million move to Chelsea.
El Shaarawy has struck a good rapport with Mario Balotelli, but what with AC Milan resembling a shadow of the fêted Carlo Ancelotti team, their best players are at the mercy of superior sides, of which there are many in Europe.
It seems unlikely Chelsea would suddenly task someone as relatively inexperienced as El Shaarawy to lead their line when they have Romelu Lukaku and have scouted Edinson Cavani and Robert Lewandowski, though.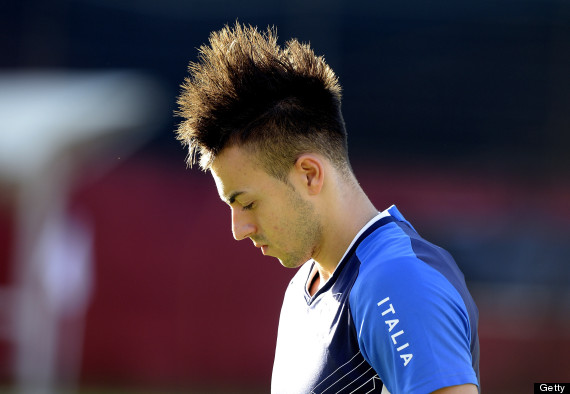 Sharpening the attack: El Shaarawy has been linked with Chelsea
Thiago Alcantara did an Eden Hazard at the weekend. No, he didn't feebly kick a ball teen who was lucky not to be kicked harder, he offered his own social media tease, posting a picture on Instagram with the caption "I Love Barcelona."
Manchester United are still keen to sign the Barça midfielder and are willing to treble his wages, write the Metro.
Chelsea, meanwhile, want Wayne Rooney, which is no surprise when one remembers José Mourinho advised Sir Alex Ferguson to "give me a call" when the striker requested a transfer in October 2010. From hate to love?
The Telegraph say the Blues are willing to offer £20m for the 27-year-old, which is unlikely to get them far. Arsenal have also enquired about Rooney, who will have the clichéd showdown talks this week.
Both the Mirror and the Mail say Bayern Munich want much-improved Blues defender David Luíz, whose goal-line clearance at the Maracanã Sunday is still being celebrated in Brazil. (What about the bloody big bobble that helped him?)
Napoli have rejected a bid from Chelsea of €50m (£42.8m), plus Fernando Torres, for Uruguay striker Edinson Cavani, 26. That figure is about €4m shy of Cavani's buy-out clause, and it is testament to Torres' relative uselessness the Neapolitans think he is worth less than Bébé.
Paulinho is already en route but Tottenham are yet to sign that elusive striker. That could change with Roberto Soldado, if you are to believe the Star.
Spurs have apparently made a £17m offer for the Valencia and Spain striker, currently wondering why he wasn't played ahead of Fernando Forlorn in Sunday's Confederations Cup final.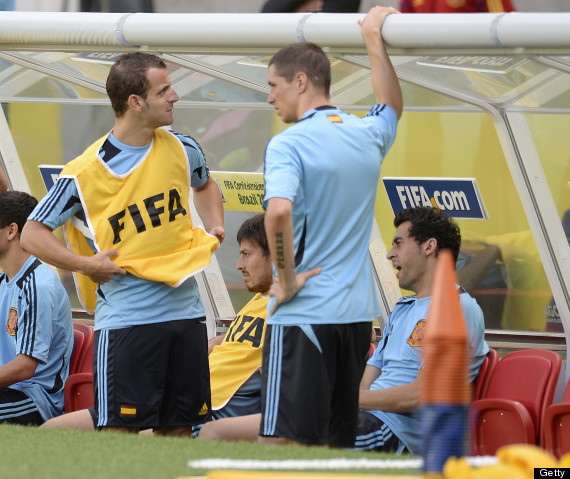 How are you starting ahead of me?
Et Le mercenaire, Nicolas Anelka, surreally ended up at Juventus last season. But could he move from the Bianconeri to the Baggies? The 34-year-old is a free agent and West Brom are named as a club that could potentially indulge Le Sulk, which would make them his sixth Premier League club, say the Mail.