The first images have emerged of a distinctly disgruntled Mohamed Morsi, placed under house arrested after being unceremoniously deposed as Egypt's first democratically elected president.
A video released by the Muslim Brotherhood Office shows the ousted Morsi speaking at an undisclosed location in Egypt.
Egypt's army is "preventively" holding ousted president Mohamed Morsi after his deposing by an army decree, a senior official said. Morsi called his arrest a "coup" by the generals.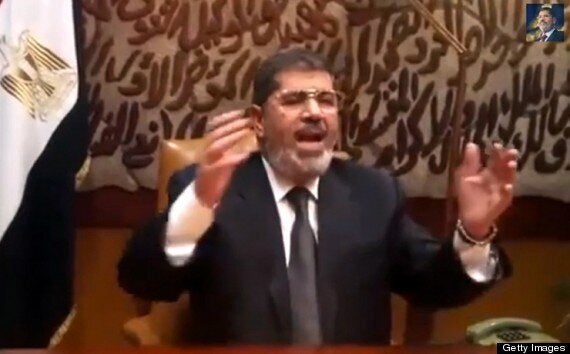 A video released by the Muslim Brotherhood Office shows ousted Egyptian president Mohamed Morsi
A presidential aide told AFP that Morsi had been moved from his office at the headquarters of the Republican Guards and that Muslim Brotherhood politicians had also been arrested.
The armed force have announced a new temporary civilian government to replace the President, suspending the constitution and promising new elections would be announced soon.
SCROLL DOWN FOR LIVE UPDATES
In a televised statement on Wednesday, Egyptian military chief Abdel Fattah al-Sisi announced that the plan calls for the temporary suspension of the constitution and the institution of a technocrat government. The chief justice of the constitutional court will lead the country in the interim.
Egyptian police have been ordered to arrest 300 leaders and members of Morsi's Muslim Brotherhood, according to Egypt's Al-Ahram.
On the official Facebook page of Morsi's Freedom and Justice Party, a post said that plain clothes security men took away the head of the party, Saad al-Katatni.
The UK will work with Egypt's new rulers despite condemning the military intervention that ousted Morsi, William Hague said.
Hague told BBC Radio 4's Today programme that the UK recognised states rather than governments "and we have to work with whoever is in authority in Egypt".
He said that for "the safety of British nationals, we have to do that because there are so many British companies there".
The Foreign Secretary said: "I always condemn military intervention in a democratic system.
"This is a military intervention in a democratic system. We have to understand it's a popular intervention, there's no doubt about that in the current state of opinion in Egypt.
"So while warning about the precedent that it sets for the future, of course we have to work with the Egyptians, with the majority will in Egypt, and that's what we will do."
Hague said that "in practice this will now move on very quickly" and "we have to recognise the enormous dissatisfaction in Egypt with what the president had done, with the conduct of government over the last year".
He added: "We will always be clear that we don't support military intervention but we will work with people in authority in Egypt. That is the practical reality of foreign policy."
British citizens are advised to avoid all non-essential travel to Egypt apart from the Red Sea resorts, and to monitor travel advice from the Foreign Office.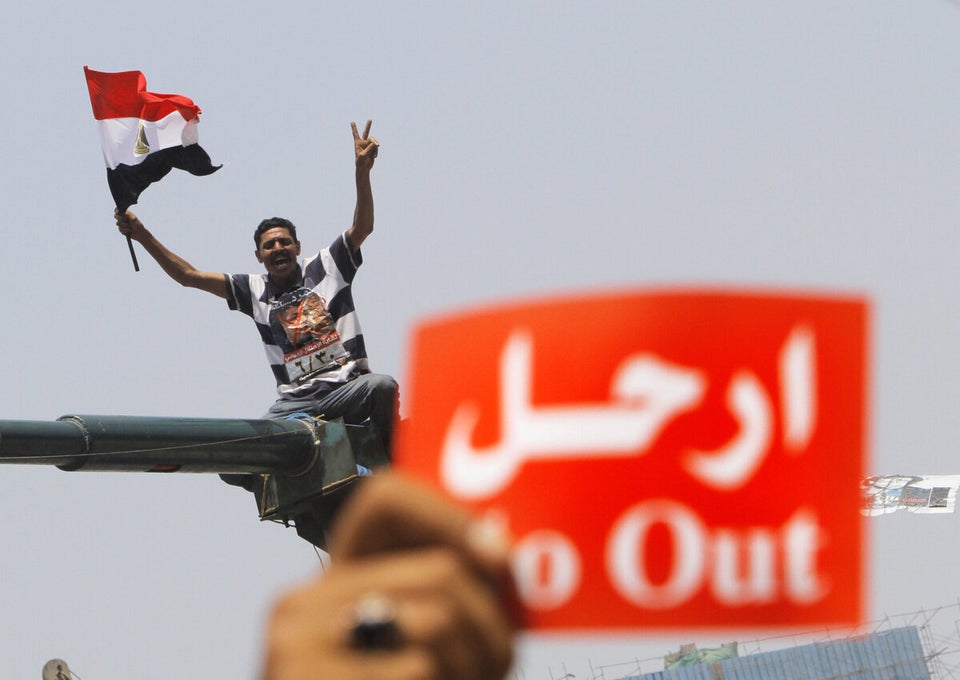 Egypt Protests Morsi's First Year
Related