An American street preacher has been arrested for using "homophobic" language on a London street, but told police he would do the same action again tomorrow.
Tony Miano, a former sheriff, was questioned by the police after a woman reported his sermons on sexual immorality in Wimbledon, south west London.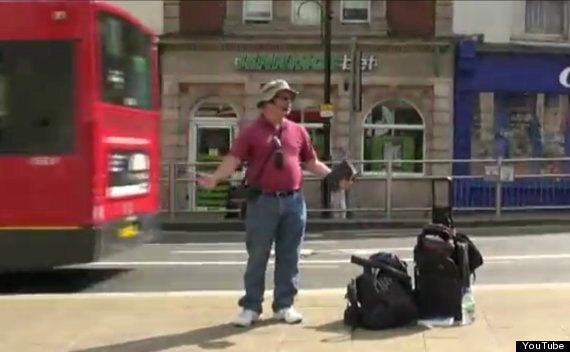 Tony Miano preaching in Wimbledon before his arrest
In a transcript of the interview published by the CLC, Miano told the police he did not hate gay people, saying: "So if a homosexual walked up to me and said, I'm hungry and I need something to eat.
"I would walk them to the nearest restaurant, give them something to eat, and share the Gospel with them because I love them."
He was then asked: "Do you feel that what you did... is 100 per cent acceptable in a public place?" and "Will you do this again tomorrow?".
Miano said he would do it again tomorrow "if I had the opportunity" because he felt his remarks were "not only 100% acceptable, but commanded by God."
He was later released with no further charge, after seven hours in custody.
Miano said in a statement after the arrest: "The language I used was not homophobic, as I was not promoting fear or hatred of homosexuals. I began my message by assuring the people that mine was not a message of hate but of love. I was simply explaining a passage in the Bible which speaks of sexual immorality and that people should abstain from it (1 Thessalonians 4:1-12).
"I did not speak solely about homosexuality as a form of sexual immorality but also about any kind of sex outside of marriage between one man and one woman, as well as lustful thoughts. All of these are considered mainstream Christian positions and have been taught and believed by Christians for thousands of years.
"It was very distressing to be arrested and interrogated for openly expressing my deeply held Christian beliefs."
Mr Miano said that it surprised him that a "person to be taken to jail for their thoughts."
"As the questioning started it became apparent that the interrogation was about more than the incident that too place in the street but what I believed and how I think.
"I was being interrogated about my thoughts … that is the basic definition of thought police.
"It surprised me that here in the country that produced the Magna Carta that an otherwise law abiding person could lose his freedom because one person was offended by the content of my speech."
Andrea Minichiello Williams, chief executive of the Christian Legal Centre, said: "If we continue on the current trajectory, Tony's arrest will simply be the first of many.
"No assurances that the government gives will be enough. It is ridiculous to think that if the same sex marriage Bill goes through these kinds of incidents will magically cease. It's clear that there is already a clampdown on freedom of speech where people publicly express mainstream Christian views on sexual ethics.
"At the Christian Legal Centre we are ready to serve anyone who is challenged for expressing their Christian beliefs. We are ready to fight for freedom of speech and the right to preach the gospel."
A spokesman for the Metropolitan Police said: "Police were called to Wimbledon Hill Road, SW19, at approximately 16.40 on Monday, July 1, following reports of a man speaking through a public address system who was alleged to have made homophobic comments.
"Officers attended and arrested the man, aged 49, on suspicion of offences under the Public Order Act.
"He was taken to a south-west London police station and spoken to by officers before being released with no further action later the same day."