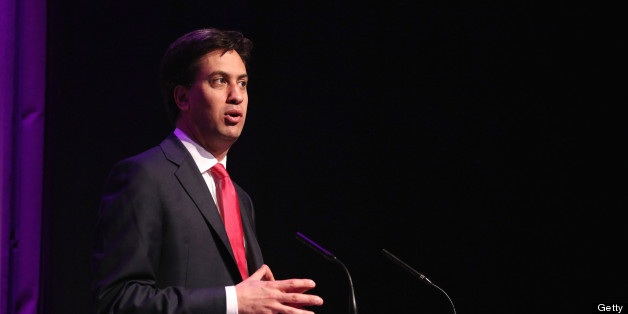 Getty
The five things you need to know on Sunday 7 July 2013...
1) MEND THE UNION LINK, DON'T END IT
Forget Andy Murray, it's a big Sunday for Ed Miliband and the Labour Party. The former has come out fighting - not, however, with a message his critics on the right may want to hear.
From the Observer:
"Ed Miliband explicitly rules out breaking Labour's historic links with the unions, saying he wants to 'mend not end' the relationship while giving individual working people more of a role in running the party.
"After a week in which allegations of vote-rigging by Labour's largest donor, Unite, have plunged the leader into his worst crisis since he beat his brother, David, to the top job in 2010, Miliband says the millions of working people in unions are the party's 'biggest asset'.
"Writing in the Observer, Miliband, who will deliver a major speech on party reform this week, says: 'To cut these individuals loose would be to make politics more out of touch not less, more remote from working people... So we should mend the relationship, not end it.'"
He's got a point - about representation and diversity - but others could argue that there is nothing 'in touch' about having union leaders deciding which parties, leaders and candidates get funding. Some have called for the political levy, paid by union members, to be made 'opt in', rather than 'opt out'.
Labour's deputy leader Harriet Harman, speaking on the Marr programme this morning, announced that there would be further reforms of the party's MP selection process and suggested that the 'new rules' could include a cap on spending by wannabe candidates. She also claimed her boss hadn't been bounced into taking on the unions by the Tories, reminding Marr stand-in presenter Sophie Raworth that Labour had put the scandal-plagued Falkirk constituency in 'special measures' prior to the heated PMQs last Wednesday.
In related news, the Sunday Telegraph claims that the Unite union tried to have 'Blairite' shadow foreign secretary Douglas Alexander deselected in the wake of a shake-up of his constituency boundaries, and the Mail on Sunday accuses allies of Tom Watson, who resigned on Thursday, of "smear[ing] an ethnic minority Labour candidate in a selection battle with one of [Watson's] closest friends". The paper also reports that Watson "has been accused of meddling to help his 26-year-old girlfriend become Labour candidate in the parliamentary constituency next door to his own".
Meanwhile, every single Sunday politics column (see '900 words or more', below) says the same thing: Miliband needs to use this crisis to reassert his authority and take on the union bosses. Well, every column except one - writing in the Sunday Mirror, Unite boss Len McCluskey says:
"For the record, Unite has worked entirely within the rules in Falkirk, and the Party investigation into what has gone on there is a shoddy fraud.
"... [D]on't let the Tories set our agenda. They are wrecking Britain. Their only hope is to wreck Labour too."
This story isn't going anywhere anytime soon. But the big question for the politicos and the pundits is: will it cut through to the general public, who seem unable to recognise the chancellor of the exchequer (see story 5, below), let alone the general secretary of Unite?
2) 'I SUPPORT DEMOCRACY BUT...'
Ed Miliband's in the news today, but so is his predecessor but one. Yes, former Labour leader/prime ministerTony Blair is back. Again. This time on the front of the Observer, endorsing the military coup in Egypt:
"Tony Blair says the Egyptian army had no alternative but to oust President Morsi from power, given the strength of opposition on the streets. The military were confronted, writes Blair in the Observer, with the simple choice of intervening or allowing chaos... Blair states that given the current situation in Egypt: "We should engage with the new de facto power and help make the new government make the changes necessary, especially on the economy, so they can deliver for the people."
"He adds: 'The events that led to the Egyptian army's removal of President Mohamed Morsi confronted the military with a simple choice: intervention or chaos. Seventeen million people on the streets are not the same as an election. But it as an awesome manifestation of power.'
"Taking a different approach to both President Obama and William Hague, who have expressed reservations over the military takeover, Blair makes clear that, overall, he believes it was the right move. 'I am a strong supporter of democracy. But democratic government doesn't on its own mean effective government. Today efficacy is the challenge.'"
Three quick points from me in response: 1) Isn't this the same guy who ignored 'people power' in his own country, dismissing 2m people on the streets of London in February 2003 in order to take Britain into a disastrous and illegal Middle East war? 2) Should we really be taking advice from a guy who was a regular guest at Hosni Mubarak's holiday villa in Sharm el-Sheikh and referred to the former Egyptian dictator as a friend and ally? 3) Can we now, finally, agree that Blair, adviser to the Kazakh government and defender of the Egyptian coup, isn't driven by some messianic desire for democracy and freedom in the Middle East (or anywhere else)? Do we need any further evidence?
3) ABOOTED OUT
It's party time over at the Home Office and inside the headquarters of the Mail and the Express. Why? Last night, Belmarsh prison bid farewell to its most famous inmate and, this morning, hate preacher Abu Qatada - finally! finally!! - touched down in Jordan, where he will appear in court later today.
From the Sun on Sunday:
"Hate cleric Abu Qatada will be booted into jail solitary confinement in Jordan — after he is finally kicked out of Britain today.
"Qatada, 53 — who faces a terror trial — will spend weeks in isolation at a tough top-security nick to stop him stirring up revolt among lags... The rabble-rouser will be in one of 240 solitary units at Muwaqqar jail in a military zone near capital Amman. The tiny 9ft x 6ft cells have just a hole in the ground for a toilet."
David Cameron has said he is "absolutely delighted" to see the back of Qatada. The PM's blood, apparently, is no longer boiling...
Meanwhile, a smiling home secretary, Theresa May, told the Marr show this morning that the government, in the wake of the Abu Qatada episode, will be looking to change the rules to make deportations quicker in the future. For example, she suggested that the number of appeals made before a deportation order is issued could be reduced. She also confirmed that the Tories are still keen to scrap the Human Rights Act and replace it with a British Bill of Rights. Has anyone told the Lib Dems?
BECAUSE YOU'VE READ THIS FAR...
Watch this video of Alfie, the Lionel Messi of dogs.
4) GOODBYE TO 'GOLDEN GOODBYES'
Hurrah! From the Sunday Times:
"Golden goodbyes worth tens of thousands of pounds to MPs who retire or lose elections are set to be axed in a far-reaching shake-up of parliamentary pay.
"Writing in today's Sunday Times, Sir Ian Kennedy, the official charged with reviewing MPs' finances, brands the so-called resettlement grants, worth up to £33,000, a 'reminder of the old, cushioned world of privilege' and a 'historical peculiarity'.
"Kennedy, chairman of the Independent Parliamentary Standards Authority (Ipsa), also signals that his recommendations, due to be published on Thursday, will include an end to MPs' "excessively generous" pension entitlements.
But wait, what's this?
"The scaling back of benefits is intended to soften public anger at proposals to raise MPs' basic salary. It is anticipated that the salary of £66,396 will go up by at least £10,000, taking pay to at least £80,000, phased in from 2015."
Oh dear...
5) WHO IS GEORGE OSBORNE?
Poor Gideon. From the Sunday People:
"Chancellor George Osborne is one of the most important men in Britain. So anyone would recognise him. Right? Wrong. Pippa Middleton famously didn't recently. And Barack Obama even called him Jeffrey.
"The Sunday People decided to find out just how well known Mr Osborne, 42, is to ordinary Britons by showing his photo around on the streets.
"'He's the gay one off Little Britain, no doubt about it,' said hairdresser Beth Richardson. 'You know, the one you always see hanging around in the Prime Minister's office.'
"You may laugh. But Beth, 18, from Gateshead, Tyne and Wear, was a lot closer to the mark than her mother Carol.
"He's that opera singer who had the operation. It's Russell Watson. I saw him on the Piers Morgan show," said home carer Carol, 50... 'I haven't got a clue,' admitted clothes shop assistant Eleanor Caster, 23. Told he was a famous politician called Mr Osborne, she replied: 'Oh no! I did politics at A level! But to be fair, I only got a D. Who is he?' Eleanor's pal Christina Morley, also 23, who is studying for a Masters degree in psychology at Newcastle University, thought she knew the answer. 'Ed Balls,' she announced."
PUBLIC OPINION WATCH
From today's Sunday Times/YouGov poll:
Labour 39
Conservatives 33
Ukip 12
Lib Dems 11
That would give Labour a majority of 78.
140 CHARACTERS OR LESS
@michaelsavage Fair to say not a bad #Marr interview for the #Theresa4PM party...
@DouglasCarswell Reasons to be happy! HoC voted for In/Out ref, Brit in Wimbledon finals, Qatada gone, sky blue, Lions teach Aussies how to play rugby
@schofieldkevin Harriet Harman: "It's not a public spat (between Labour and Unite), there is a public argument." Er, OK. #MarrShow
900 WORDS OR MORE
Matthew D'Ancona, writing in the Sunday Telegraph, says: "Everything hangs on Ed Miliband's battle with Labour's past."
Andrew Rawnsley, writing in the Observer, says: "The Unite row is a grave crisis that Ed Miliband could turn into a great opportunity."
John Rentoul, writing in the Independent on Sunday, says: "Sorry, Ed, it's too late to say you're no union man."
Got something you want to share? Please send any stories/tips/quotes/pix/plugs/gossip to Mehdi Hasan (mehdi.hasan@huffingtonpost.com) or Ned Simons (ned.simons@huffingtonpost.com). You can also follow us on Twitter: @mehdirhasan, @nedsimons and @huffpostukpol