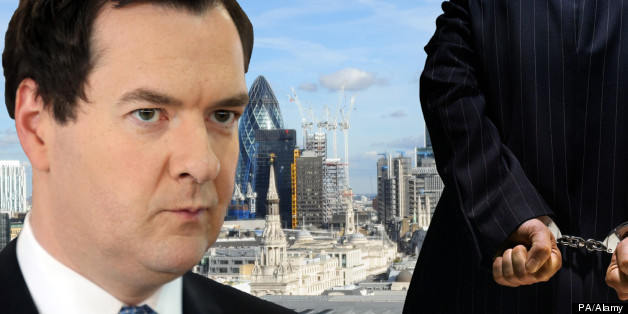 PA/Alamy
Chancellor George Osborne's backing of proposals to jail reckless bankers has come under fire as a mere 'symbolic gesture' by experts.
This came after the Chancellor threw the government's weight behind the proposal from the Parliamentary Banking Commission, saying it was part of the cultural reform of the sector which would help maintain the 'highest standards'
Speaking to the Huffington Post UK, Peter Fleming, Professor of Management at Cass Business School, said that Osborne "had to say something at this point in time because of the banking sector's almost irrecoverable legitimacy crisis".
"Osborne is behind the curve. He has had to make some brash and big claims about jailing bankers. Whether bankers are going to be jailed is another matter. It's just a symbolic gesture that things are going to change.
"He's had his hand forced. He has been dragged into it and is probably in a very uncomfortable position because Osborne is otherwise a great ally of the banking sector, so he's in a difficult position. So far his words are looking hollow."
The new criminal offence of "reckless misconduct in the management of a bank" would apply just to senior individuals, with cases pursued only against those involved with "the most serious of failings, such as where a bank failed with substantial cost to the taxpayer, lasting consequences for the financial system, or serious harm to customers". Bank bosses will also have to show that they took all reasonable precautions to stop any regulation breaches.
Business Secretary Vince Cable said: "If we're to get our economy back on track, we need to get the banking system back on track first.
"Creating new powers to jail bankers who are reckless with other people's money and getting more competition into banking, is a start."
Osborne also defied the Commission's call to make bankers lend more cautiously as he refused to back a tighter 'leverage ratio', the amount of loans a bank can make against its balance sheet. He instead opted to keep to the lower Basel III international levels.
The Chancellor also refused to back calls to scrap UK Financial Investments (UKFI), the body charged with managing the government's holdings in the Royal Bank of Scotland and Lloyds' Banking Group, which has been dogged with accusations of government manipulation.
LIKE HUFFPOST UK POLITICS ON FACEBOOK | FOLLOW US ON TWITTER
The Chancellor said UKFI was staffed with "highly expert professionals with extensive experience in the banking sector". Questions originally arose about UKFI's independence when Stephen Hester left RBS as its CEO, with rumours flying that Osborne wanted him ousted.
Shadow Chancellor Ed Balls accused Osborne of trying to "duck the radical banking reform we need".
"While the Chancellor's support for the Commission's proposals on issues like criminal penalties for reckless misconduct is welcome, it's disappointing that he has failed to table amendments in time for this week's debate on the Banking Reform Bill.
"Following the multi-billion pound fall in the value of the taxpayer's stake in RBS in recent weeks George Osborne should now accept Labour's calls for the Treasury to publish a report on how the best interests of the taxpayer will be protected before the government sells its stakes in the banks. And he should heed our calls for changes to the Bank of England to address flaws in their objectives, accountability and crisis management following the recent reforms.
"He is still refusing to implement the Parliamentary Commission's recommendation of a backstop power that would allow for full separation of all the banks, not just one or two, if ring-fencing proves ineffective."
"Over the coming months we will continue to press the government to deliver the full backstop power Labour and the Commission have called for and we will closely scrutinise the government's amendments, when they are eventually published, to ensure there is no further watering down of the reforms we need."