Almost a fifth of Conservative Party members are considering voting for the UK Independence Party (Ukip), a new poll suggests.
And more than half do not believe they are respected by David Cameron and his leadership team.
The findings of the research by YouGov for Queen Mary, University of London, Sussex University and the McDougall Trust could give the Prime Minister pause for thought as he bids to fend off the threat from Ukip.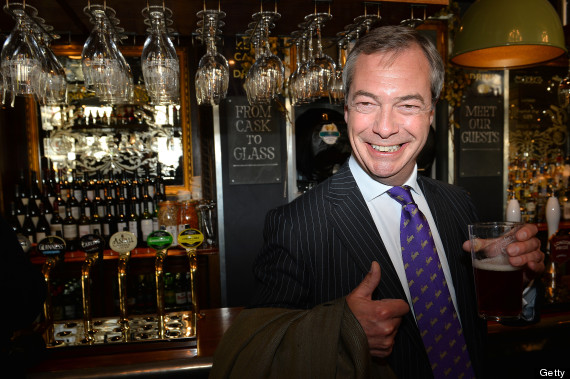 Nigel Farage enjoys a pint of beer in a pub in central London
It is unusual to see surveys of party members because lists of names are not released, but the polling firm has identified 852 individuals from its previous work.
The polling was carried out between May 31 and June 11, and they were not able to weight the results to reflect the estimated 100,000 Conservative Party members.
Respondents were instructed to say whether they would consider voting for Ukip on a scale of one to 10, with the top rating indicating a definite "yes".
Some 19% gave a score of eight or above, according to results seen by the BBC.
Asked about the Tory leadership's respect for ordinary members, 53% either felt they did not have much respect or none at all.
Only 19% said they expected the Conservatives to win an overall majority at the general election, while 44% admitted they spend no time on party activity in an average month.