Aston Villa are bracing themselves for a long seven-and-a-half-weeks after they confirmed Christian Benteke has handed in a transfer request.
The Belgian striker, a revelation for Villa last season, admitted in May he would be open to leaving the club after just one season to join Arsenal.
And following reports the 22-year-old had not travelled with the Villa squad to Germany on their pre-season tour the club confirmed the stories' veracity.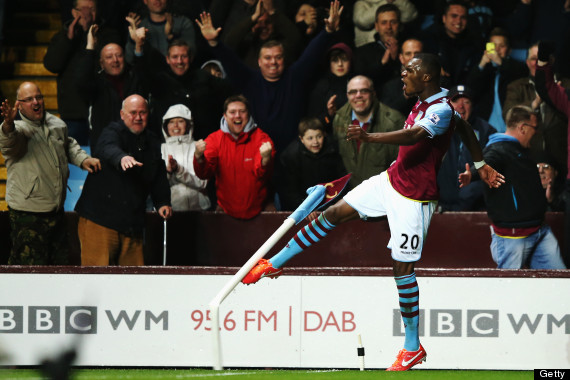 Benteke wants to leave Villa after only one season
"In response to reports that Christian Benteke has not travelled to Germany with the club and has made a transfer request, we can confirm that both are accurate.

"For clarity's sake, however, he had already been given extra time off until July 18 and was reminded that there are three years remaining on his contract, we consider him to be a Villa player and expect that he will be with us for the 2013-14 season.

"Having received his transfer request, we have also informed him that should we receive an offer within an appropriate timeframe during pre-season which meets our valuation we would act upon it. But he will remain a Villa player should this not happen."
Villa paid Genk £7 million to bring Benteke to Villa Park on transfer deadline day last year, and the 6ft 3in forward hit an impressive 23 strikes as his goals proved pivotal in Villa's Barclays Premier League survival campaign.
Benteke signed a four-year deal with Villa and the length of his contract, as well as his young age and impressive debut season in English football, means Villa are seeking a 200% profit.
Arsenal, Tottenham Hotspur and Chelsea have all been linked with the frontman, who is valued at £24m by Villa.
The Gunners are still yet to acquire an outstanding striker, with Real Madrid president Florentino Pérez claiming Arsenal have not even bid for target Gonzalo Higuaín.
Arsenal also had a £30m bid for Luis Suárez rejected by Liverpool at the weekend, although France Under-21 international centre forward Yaya Sanogo has joined on a free.
Spurs are more in need of a striker. Jermain Defoe, Emmanuel Adebayor and Clint Dempsey are their only options up front and their failure to bring in a number nine contributed to them missing out on a Champions League berth last season.
Chelsea already have Demba Ba, Fernando Torres and the returning Romelu Lukaku available at their disposal, however Ba could leave this summer while Torres' miserable two-and-a-half-years at Stamford Bridge could also end.
Benteke was sent off for Villa against Chelsea in his final match last season, so he will be suspended for the opening two matches of the 2013-14 campaign should he sign for a Premier League club.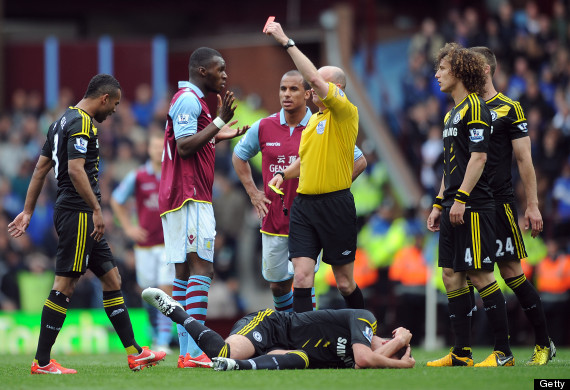 Benteke's last game for Villa ended with a dismissal against Chelsea
Chelsea's pursuit of Edinson Cavani should end this week, with the Uruguayan close to a move to Paris Saint-Germain.