The European Space Agency has approved the configuration of its next-generation Ariane 6 space rocket.
And while it's not quite up there in ambition with SpaceX's reusable rocket of the future, it's pretty cool nonetheless.
The Ariane 6 launch vehicle is intended to "maintain guaranteed autonomous access to space for Europe, while minimising exploitation costs and suppressing any support to exploitation".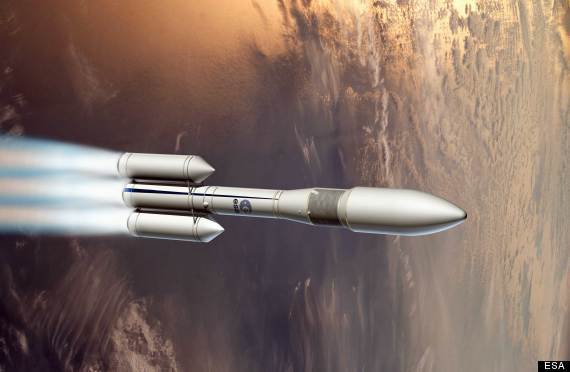 The rocket (above) is required to lift up to 6.5 tonnes of payload into geostationary orbit, covering government and commercial needs.
The launch system will retain the "solid propulsion, solid propulsion and cryogenic propulsion" stage setup as the Ariane 5, but is far more advanced in other areas.
ESA said the rocket "will become Europe's workhorse for reaching space in the 2020s and beyond".
It said:
"This concept was selected after six months of trade-off studies done by a 'plateau projet' integrating industrial teams (Astrium, Avio, Herakles and the participation of Safran, MT Aerospace and others) working under ESA contract, consistent with Ministerial decisions mentioned above.

The choice of configuration was made by consensus and based on the following main criteria: exploitation costs, time to market and development costs.

Ariane 6 will benefit from the advances by European industry in solid and cryogenic propulsion, structures, systems, avionics, ground segment and operations through the Ariane and Vega programmes."
The agency will now consult with the wider space industry and gather competing ideas for how to build the new system and the fine details on the design.