A man who joined his flatmate's plot to rob and kill international pop star Joss Stone has been jailed for 18 years, a court said.
Junior Bradshaw, 32, acted as the driver for Kevin Liverpool, 35, who had devised the plot to kidnap the soul star and obtain more than £1 million.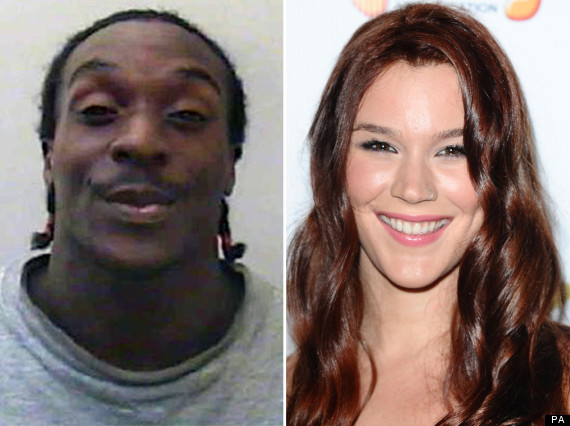 Junior Bradshaw (left) was one half of the plot to kill singer Joss Stone (right)
The bungling pair had driven from Manchester to Miss Stone's home in mid-Devon with an arsenal of weapons to rob and kill her.
Notes written by Liverpool show they wanted to behead her because of her links to the royal family.
The duo had scouted Miss Stone's home and were on their way to attack her armed with a sword, three knives, two hammers, masks, gloves and a hosepipe when they were arrested in Cullompton in June 2011.
Suspicious residents had called the police having spotted Liverpool and Bradshaw's badly damaged Fiat Punto in the local area.
The pair, who harboured a deep hatred for the singer, told police they were lost and were trying to get to Bristol but officers became wary and quickly discovered the cache in the boot.
A search of the one-bedroom flat Bradshaw and Liverpool shared in St Stephen's Close, Longsight, Manchester also recovered a self-cocking crossbow and a BB gun.
The pair were convicted by a jury in April of conspiracy to murder and conspiracy to rob following a three-week trial at Exeter Crown Court.
Liverpool was sentenced immediately to life imprisonment and told to serve a minimum term of 10 years and eight months' imprisonment.
Sentencing against Bradshaw was adjourned for the preparation of psychiatric reports.
Tuesday's hearing had been listed as a mention but Judge Francis Gilbert QC, The Recorder of Exeter, proceeded to sentence.
An Exeter Crown Court official said: "Mr Bradshaw was sentenced to 18 years' imprisonment for conspiracy to murder.
"The case was listed as a mention but an application was made to proceed to sentence.
"It was not indicated before today's hearing."