"If at the end of day Man United decides that he is to leave, give me a call," José Mourinho cheekily said when news Wayne Rooney had requested to leave Old Trafford was made public in October 2010.
Mourinho admitted he thought Rooney would stay at United and was proven right just two days later, when the Croxteth striker hit the brakes and did a hasty U-turn, which resulted in a five-year contract and a hefty pay-rise.
Despite Sir Alex Ferguson's reliance on Rooney over the next 18 months, he never fully forgave the upstart behaviour a once impeccable professional had displayed.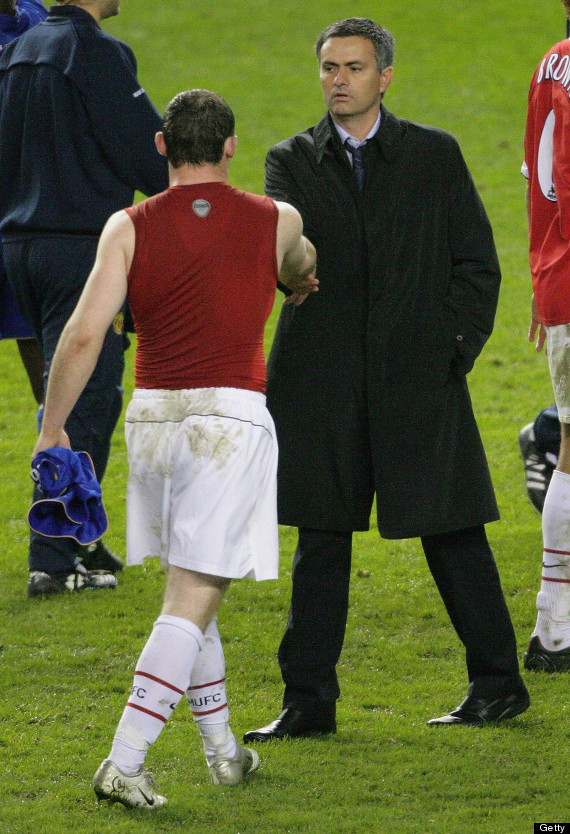 Mourinho shakes Rooney's hand after Chelsea beat United in 2005
Rooney was fined for going out drinking with Darron Gibson over Christmas 2011 and dropped for United's New Year's Eve defeat at home to Blackburn Rovers. Another United player was out necking shots in Manchester the same evening but no action was taken against him. Ferguson had scapegoated Rooney and, just like his De Niro-esque performance during that autumn press conference, had reminded his player the manger remained the capo di tutti capi.
There were other subtle digs. With some justification, Ferguson described Rooney as "stocky" last year and the forward's demotion at the expense of Danny Welbeck for the Champions League home tie with Real Madrid was a humiliating setback for the 27-year-old.
Welbeck's gamely and enterprising performance against Madrid vindicated Ferguson's decision, though. Rooney eventually arrived as United chased the game following Madrid's comeback, but missed an inviting volley and the parallels with David Beckham in 2003 were drawn.
And finally, Ferguson, after his final Old Trafford match in charge of United, told the world Rooney had expressed a desire to leave for the second time in three seasons.
Rooney maintains that wasn't the case and that he merely sought assurances over his role in the team during their tête-à-tête. A victim of Ferguson's tinkering, the Scot's retirement could give Rooney a new lease of life under David Moyes, whose in-tray remains dominated by the United number 10.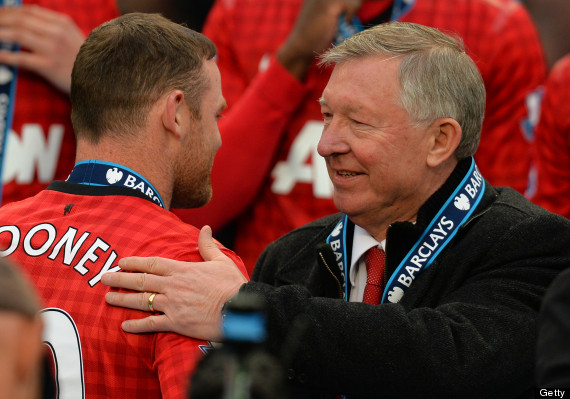 Ferguson and Rooney's relationship deteriorated at United
Moyes managed Rooney for two seasons at Everton and should relish the prospect of getting the best out of a player Ferguson often wasted, but for club and player it is for the best Rooney moves on.
"Keep walking you fat Scouse tw*t," was one United fan's greeting for Rooney when the players arrived for their open top bus parade through Manchester. Just a day after Ferguson confirmed the rumours, United fans had sided with the Scot over the Scouser, and Rooney was jeered by Mancunians who have grown weary with an exciting yet erratic player.
Despite his performance level in a red shirt, Rooney remains a coveted player on the continent. He boasts admirers from Barcelona to Real Madrid to Bayern Munich, something which was re-emphasised when his toiling display in the Santiago Bernabéu in February drew positive praise from the Spanish press.
Only Rooney has always been a homebird. In 2008, he replied to assembled journalists who had asked if he would play abroad: "Be honest lads, can you see me playing abroad?"
He appeared to contradict that when asked about his 2010 transfer request. Rooney had fluttered his eyelashes at Manchester City but denied this and stressed if he was to leave United it would be to move outside of the UK.
Rooney reneging on his initial request in 2010 was not particularly surprising. His wife's sister, Rosie, suffered from the rare genetic disorder Rett Syndrome and the family were committed to caring for her, which meant the Rooneys would live in close proximity.
Sadly, Rosie McLoughlin died in January, which now enables Rooney to uproot his family without the wrench of moving away from his sister-in-law.
Chelsea also have a vacancy. Fernando Torres looks forlorn, Demba Ba is available for transfer and Romelu Lukaku remains too junior to lead the line for the Blues.
Rooney's best season for United came as a loan striker in 2009-10, when he thrived as a creative poacher, while the team grew reliant on him in the wake of Cristiano Ronaldo's departure.
But now, with Robin van Persie the fans' favourite and Shinji Kagawa expected to improve, Rooney, the self-confessed "big man", is feeling pretty small.
It is easy to imagine an upbeat Mourinho-Rooney rapport after the fraught relationship the England international shared with Ferguson during the last two-and-a-half-years. And to tighten the bond, both would be turning over new leaves at Stamford Bridge together.
Mourinho might yet get that call.