It seems the glorious sunshine and sweltering temperatures that made Sunday the hottest day of the year simply cannot be sustained.
But not to worry, after a mid-week dip they should rise again on Friday and last throughout the weekend.
Northerners will also have no reason to covet the South's near 30C as they are set to enjoy a rather simmering 28C.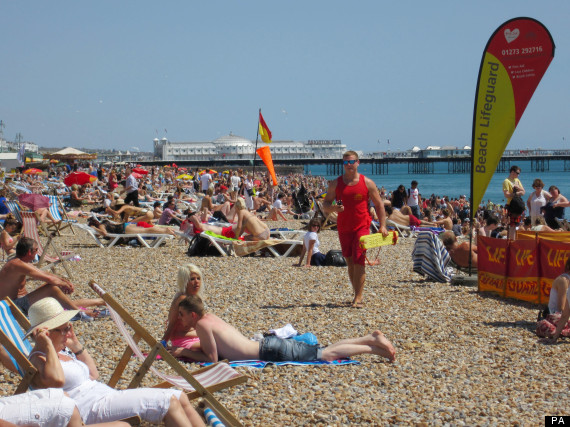 People enjoy the sunshine on Brighton Beach
The weekend of glorious weather continued as people returned to work on Monday with a high of 29.6C recorded in Lee-On-Solent in Hampshire, just shy of the 29.7C reached in Bournemouth on Sunday which marked the hottest day of the year so far.
However, it was markedly cooler across the North Sea coast of England and Scotland, where Donna Nook in Lincolnshire peaked at only 16C.
While the sunshine is not unusual for July it is above average, said Andy Ratcliffe, meteorologist for MeteoGroup, the weather division of the Press Association.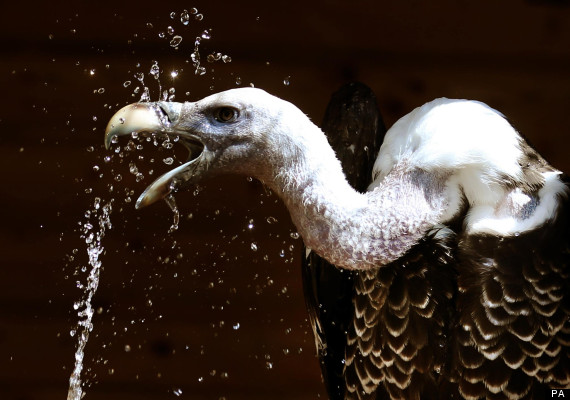 Alex the Ruppell's Griffon Vulture is cooled in its enclosure at Blair Drummond Safari Park
"In the middle part of the week the weather will get cooler but still warm, to around the low 20s," he added.
"But it will pick up again in time for the weekend and should last through to Sunday.
Story continues after slideshow...
"Past that it is hard to be certain, but we don't have much rain at all forecast for the next seven to 10 days."
But police have warned of the dangers of cooling off in open water after a 17-year-old boy died while swimming in a lake at an old quarry.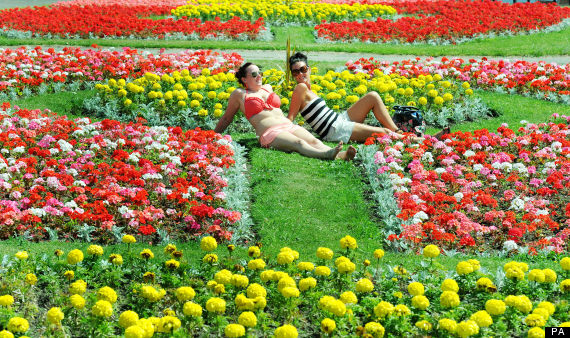 Sisters Lauren, 23 and Ashley, 25 Johnstone (right) from Gateshead enjoy the heatwave at Whitley Bay
Russell O'Neill, from Worcester, had been swimming at Gullet Quarry near Malvern in Worcestershire when he failed to resurface on Saturday afternoon.
The teenager's body was later recovered by a dive team from South Wales Police.
West Mercia Police are not treating his death as suspicious.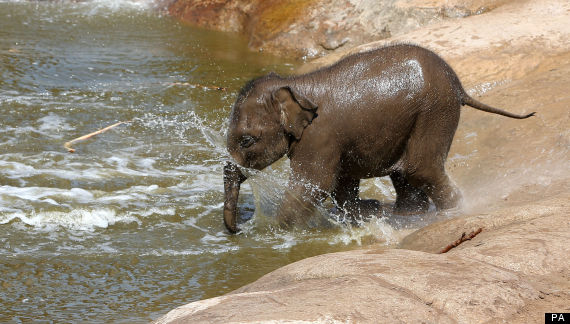 Baby Asian Elephant Bala Hi-Way takes a dip in the pool to cool down from the hot weather at Chester Zoo
Speaking after the incident on Saturday, Detective Inspector Richard Reese said: "This appears to have been a tragic accident and our thoughts are with the boy's family and friends at this sad time.
"While it is too early to give a cause of death, we would like to take this opportunity to remind people about the dangers of open water.
"With the warm weather upon us and the school holidays approaching, we would advise people to think twice about going into local rivers, lakes and canals in order to cool off.
"We are privileged to live and work in a beautiful part of the country with a huge area of water. However, this comes with its dangers and we would appeal for people to recognise the risks associated with water and act responsibly."