A councillor who suggested disabled children should be "put down" comparing them to deformed livestock has resigned for a second time in less than six months.
Collin Brewer, 68, quit as a member of Cornwall Council days after a standards board report censured him for his "outrageous and grossly insensitive remarks" comparing disabled children to deformed lambs.
In May, dozens of protesters called for his resignation in a protest outside the council building, where they waved homemade signs calling for Brewer's resignation, including ones that said "Call yourself a Christian" and "Brewer Must Go".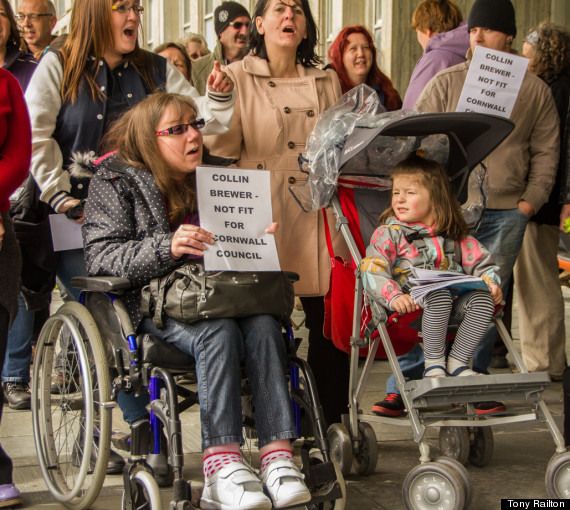 Dozens of protesters called for Brewer's resignation
Brewer first resigned as a councillor for Wadebridge East in February when comments he made to a charity worker in 2011 about disabled children costing the authority too much money became public.
But in May he was re-elected to the ward by just four votes and a week later gave an interview to the Disability News Service, which has now led to his second resignation.
Brewer raised concerns about the "burden" of disabled children and compared the costs of looking after them to the maintenance of public toilets.
He compared farmers' treatment of deformed lambs to the way disabled children are dealt with.
"If they have a misshapen lamb, they get rid of it. They get rid of it. Bang," Brewer said.
LIKE HUFFPOST UK POLITICS ON FACEBOOK | FOLLOW US ON TWITTER
After the comments were published, the council received 180 complaints and a campaign was launched to force him to resign as the independent councillor for Wadebridge East.
Earlier, this week Cornwall Council published a report by its monitoring officer, which found Brewer had breached the councillors' code of conduct and formally censured him for the "outrageous and grossly insensitive remarks" he made in the interview.
However, the council said it did not have the power to remove Brewer from his seat.
A Cornwall Council spokeswoman said in a statement: "Cornwall Council has today received a letter from Collin Brewer confirming that he has formally resigned as the member for the Wadebridge East electoral division.
"The resignation takes effect from July 10, the date the written confirmation was received by the council's monitoring officer.
"The council's electoral service will now be making arrangements for a by- election to be held."
Richard Hawkes, chief executive of the disability charity Scope, said: "The councillor's ill-judged and insensitive comments on disabled children demonstrated that he was clearly not fit for office.
"The council is right to find him guilty. We believe he has made the right decision in stepping down.
"Luckily such sickening views are rare. But almost a year on from the Paralympics disabled people tell us that public attitudes towards them remain an issue.
"Disabled people are concerned about the impact of 'scrounger' rhetoric.
"We need to reopen the debate on attitudes to disability."