The crash that destroyed a Russian rocket carrying £131.4 million of satellites may have been caused by sensors being installed upside down.
The unmanned Proton-M booster exploded shortly after takeoff last week after veering violently off course.
There were no casualties on the ground although a significant amount of toxic rocket fuel was spilled over a large area.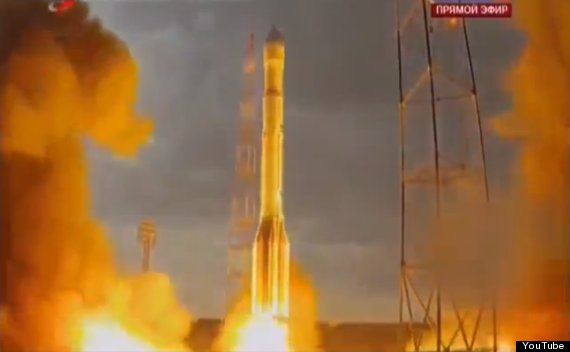 The rocket took off from the Baikonur cosmodrome in Kazakhstan
A subsequent investigation has reportedly pinpointed incorrectly installed "critical angular velocity sensors" as being the culprit.
Writing on russianspaceweb.com, Anatoly Zak, a Russian space journalist explained said arrows on sensors that were supposed to be pointing up had been found pointing down.
This meant the rocket's flight control system received incorrect information and tried to correct itself even though nothing was wrong.
A "paper trail' has implicated an individual in the plant where the rocket was assembled.
The results of the official investigation are yet to confirm the suspicions.
The rocket was carrying satellites for the Russina Glonass, the only viable alternative to GPS which was developed by the US and the European Galileo system.
Russia is spending nearly £6 billion by 2020 on the network.