The first look at David Bradley as the first ever 'Doctor Who', William Hartnell, in the 50th anniversary biopic has been unveiled.
The image shows Bradley, who played Hogwarts caretaker Filch in 'Harry Potter', in front of a camera next to the iconic Tardis.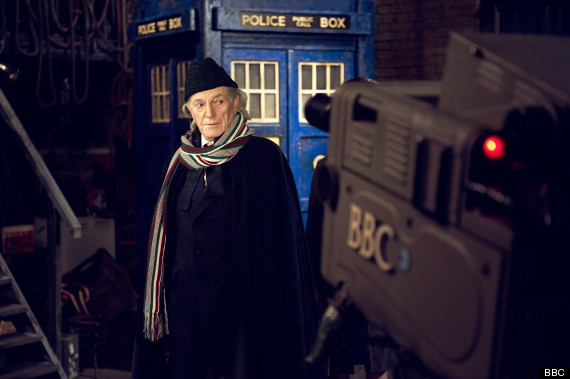 Bradley is just one of the actors who will appear in the BBC Two drama, penned by Mark Gatiss, 'An Adventure in Space and Time'.
Brian Cox will play the man often credited with the creation of the show, the BBC's Head of Drama, Sydney Newman. And 'Call the Midwife' star Jessica Raine will play producer Verity Lambert.
The show will tell the story of the beginning of 'Doctor Who' since it began on 23 November 1963.
It's not just the BBC who are celebrating the 50th anniversary of the hit sci-fi show. Brands are also marking the landmark, with the latest being cooking shop Lakeland who've unveiled a collection of Doctor Who products including a TARDIS cupcake kit and a Dalek cake mould.
Meanwhile Matt Smith's Timelord replacement is expected to be announced in September, with the 30-year-old, who has played the role for three series, tipped to bow out after the Christmas special in December.
LIKE US ON FACEBOOK | FOLLOW US ON TWITTER
ENTER OUR FAB COMPETITIONS:

Win Wilderness Festival Boutique Camping Weekend Tickets, A Banquet Feast And Relax In A Lakeside Spa Hot Tub

Win Tickets And A Fantastic Charlie And The Chocolate Factory Experience For Your Family