Justin Bieber has apologised to former US president Bill Clinton after swearing at a picture him in a leaked video, which also showed him taking a wee in a bucket in a nightclub kitchen.
The singer could be heard shouting "f**k Bill Clinton" as he sprayed cleaning product on the picture.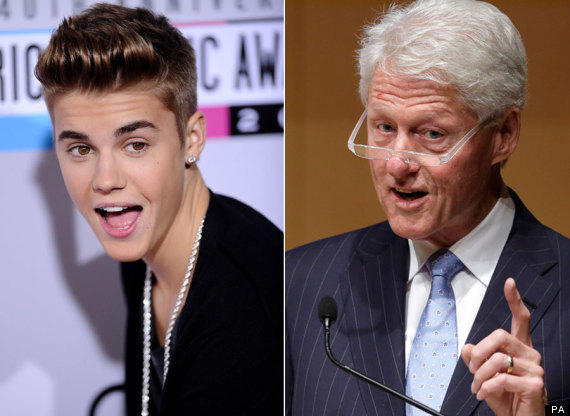 He has now reportedly called the former president to apologise for his actions.
He later tweeted: "@billclinton thanks for taking the time to talk Mr. President. Your words meant alot. #greatguy."
The clip was filmed earlier this year but has only just surfaced online, following a spate of negative publicity over the 19-year-old singer's recent behaviour.
After it emerged, he tweeted: "In life u will make mistakes and people will try and tear u down... but u gotta stay positive. Stay strong and learn to be better and always live to serve others and The Lord. #growingeveryday."
This latest incident happened at the same time as another headache for the singer - on-off girlfriend Selena Gomez is said to have included a voicemail from Justin in a track, which has been leaked online, on her new album.
The former 'Wizards Of Waverly Place' star doesn't unveil her new album 'Stars Dance' until later this month, but E! News reports that the song 'Love Will Remember' features a private voicemail message from Justin, which he left earlier this year before they split.
It says: "Hey babe, it's me. I just want to call and tell you that I love you so, so, so, so much. I just wanted to let you know that you are my princess. You are worthy of all the love in the world. You are the love of my life."
Selena has previously admitted that the track is very personal, hinting that the break-up song was about the romance, but a spokesperson for the song's producer Rock Mafia told E!: "We won't confirm it's Justin. We are very disappointed the song was leaked."
It isn't known whether Selena and Justin are currently dating. They are thought to have broken up earlier this year but in May they were caught on camera sharing a kiss backstage at the Billboard awards.
LIKE US ON FACEBOOK | FOLLOW US ON TWITTER
ENTER OUR FAB COMPETITIONS:

Win Wilderness Festival Boutique Camping Weekend Tickets, A Banquet Feast And Relax In A Lakeside Spa Hot Tub

Win Tickets And A Fantastic Charlie And The Chocolate Factory Experience For Your Family