David Cameron met survivors of the Srebrenica genocide as the Government pledged around £170,000 of funding to help children learn about the Bosnian War massacre.
The UK staged its first memorial day event to mark the 18th anniversary of the atrocity which the Prime Minister said was a "stark demonstration of what can happen when hatred, discrimination and evil are allowed to go unchecked".
Communities Secretary Eric Pickles outlined how the money would go to an educational project to teach future generations to "help make sure such horrors never happen again".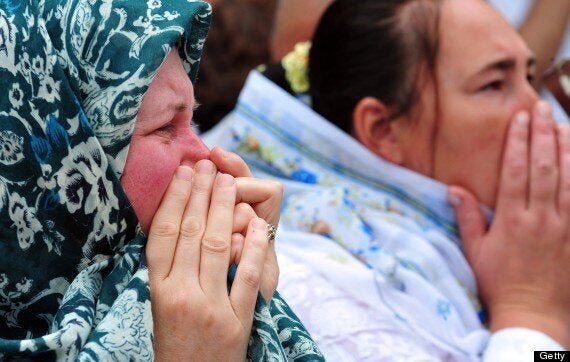 Bosnian Muslim women, citizens of the capital Sarajevo, pray and mourn next to moving trucks, transporting body caskets of Srebrenica 1995 victims
More than 8,000 Muslim Bosnian men and boys were slaughtered in the atrocity in July 1995.
Cameron said: "Eighteen years ago today, on July 11 1995 forces under the command of Ratko Mladic overran the town of Srebrenica in Bosnia and Herzegovina. In the days that followed over 8,000 men and boys were massacred and up to 30,000 women and girls were forcibly expelled.
"The horror of those events has stayed with me and today I renew my deepest condolences to the bereaved.
"It is important that we don't forget these events. Srebrenica was a stark demonstration of what can happen when hatred, discrimination and evil are allowed to go unchecked.
"I am pleased that the Government has been able to work with Remembering Srebrenica, an initiative dedicated to commemorating and honouring the victims of Srebrenica, to organise a remembrance ceremony in London this year for the very first time.
"Much has changed in Bosnia and Herzegovina since those dark days of the early 1990s. The threat of violence no longer hangs so heavy over its citizens. However, Bosnia and Herzegovina has further to go if it is to achieve its potential and establish itself as a member of the EU and Nato, playing a full role as a stable and sovereign country.
"The UK is firmly committed to helping Bosnia and Herzegovina achieve this goal. Ensuring that Bosnia and Herzegovina is tolerant, inclusive and firmly at peace must be the lasting tribute to Srebrenica's memory."
Survivors, senior politicians and religious leaders were paying their respects to the victims at the Srebrenica Memorial Day at Lancaster House in central London.
Pickles said: "The spectre of Srebrenica casts a long shadow. Wiping out families, destroying lives, shattering the future of a country. It was the worst act of genocide in Europe since the Second World War, happening so close to where many people were living peaceful and carefree lives.
"It reminds us of our collective responsibility to keep fighting the forces of hate and challenging the politics of division which is why we are funding an educational project to send local leaders to Srebrenica.
"This will not just be a vital opportunity to commemorate the innocents who perished in the massacre. It will be a chance to educate future generations about the effects of hatred so that we can help make sure such horrors never happen again."
The Remembering Srebrenica programme leads educational visits by community leaders to Bosnia so they can hear from survivors and, in turn, recount what they learned locally.
Faith Minister Baroness Warsi said: "Srebrenica Memorial Day is a day to stop, to think, and to remember the victims of the Srebrenica genocide. What happened to them and their families carries a wider message for all of us: that hatred can take hold in any place, at any time - even at the end of the 20th century, on European soil.
"I have met many of the mothers of Srebrenica over the years - women whose sons and husbands were so cruelly taken from them 18 years ago. We can all learn lessons from their courage to carry on, to seek justice, and to properly lay to rest their loved ones.
"With that fact in our minds and the mothers of Srebrenica in our hearts, we must stand together and pledge never, ever again."
Speaking at the memorial event Foreign Secretary William Hague urged Bosnia-Herzegovina's politicians to make progress on the path to European Union and Nato membership.
He said: "Some today still dream of breaking up Bosnia. To those people our message is simple: only the united and sovereign state of Bosnia- Herzegovina can be an EU member state. There are no shortcuts to that or alternatives that we will support.
"And we stand ready to help the people of Bosnia fulfil their EU aspirations, just as we have helped Croatia, and just as we have and will help Serbia, Kosovo or any other country in the region.
"But I say to the Bosnian people, your destiny is in your own hands. We will never give up on you and we shall always stand by you. We will keep the door to the EU and Nato open, but it is your task to walk through it and you should demand nothing less from your leaders than that they work to take the necessary steps.
"So today as we remember the innocent victims of Srebrenica, I urge the country's political leaders to work together and I remind them of their duty towards their citizens, who deserve all the benefits of the EU in the 21st century. If you fail to work towards that goal then you fail your own children and your own future.
"For ensuring that the country is tolerant, inclusive and at peace must be the lasting tribute to Srebrenica's victims. Tonight our thoughts are with them and their loved ones. Let us honour their memory and reaffirm the conviction that this, one of the darkest and most tragic chapters in human history, shall never be repeated."