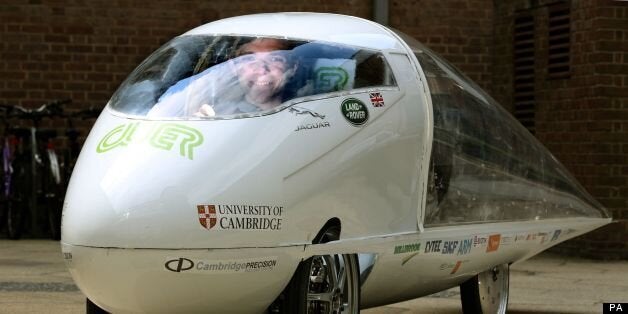 A team of British students is preparing to take on the world with a new high speed solar car.
The Cambridge University Eco Racing team has designed its vehicle, Resolution, to take part in the gruelling 3,000km World Solar Challenge race across Australia from Darwin to Adelaide.
Using the power of the sun they must average 80kmh (50mph) in one of the world's harshest environments.
Team manager Keno Mario-Ghae, a second year engineering student at Girton College, said that every element of the ultra-light vehicle - shaped like a bullet - has been designed with the objective of improving its race time.
"The margin between first and second place in the 2011 race was just 30 minutes," he said.
"The narrowly beaten Dutch team are national heroes that previously won the race four times in succession, so we are not underestimating the strength of the competition."
Resolution weighs just 120kg and carries the world's most efficient terrestrial solar array embedded within a unique aft-facing sun-tracking plate that follows the trajectory of the sun.
The cockpit is tiny and the four-person driving team must endure four-hour stints in temperatures of 40C.
Resolution, supported by Jaguar Land Rover, Cambridge Precision, Millbrook Proving Ground and microprocessor firm ARM, will have advanced on-board telemetry.
This will take into account traffic, weather and driving style, to help advise the team on how to reach their optimum efficiency.
They have recently undergone training at Millbrook in Cambridgeshire ahead of the October race.