Edward Snowden has finally revealed his final plan for asylum, telling human rights activists he will seek to stay in Russia.
Snowden, who has been pictured for the first time since leaking secret National Security Agency documents and then fleeing Hong Kong, has declared he will seek political asylum in Russia, having received offers from Venezuela, Bolivia, Ecuador and Nicaragua.
The fugitive ex-NSA analyst invited a number of human rights activists and lawyers to meet him at a mysterious "G9" location - sparking a mad frenzy of reporters stampeding towards the transit zone of Moscow's Sheremetyevo airport.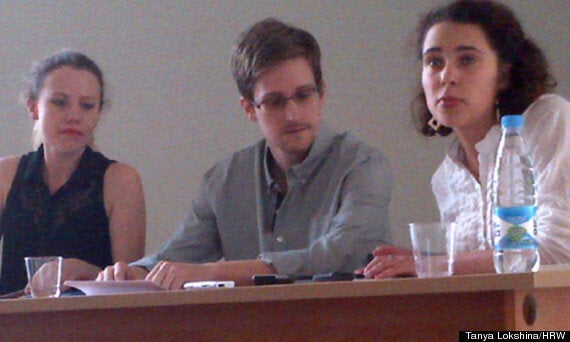 The first picture of Edward Snowden since he fled Hong Kong, with WikiLeaks lawyer Sarah Harrison on his right
Interfax, a Russian news agency, reported that Snowden was staying in the transit zone's capsule hotel but met invited activists in the open area in the transit zone.
Addressing the group of invitees, Snowden said he accepted all offers of asylum, but had no guarantee of safe passage to Latin America. He is believed to be planning to eventually travel to Latin America, when he can do so safely.
His only guarantee of safety, however, is to remain in Russia, because of fears that the US and EU countries will not allow him to fly through their airspace. "I am only in a position to accept Russia's offer because of my inability to travel," he said, according to Human Rights Watch representative Tanya Lokshina.
He called on the assembled group, which includes Kremlin advisors, to petition the Russian government on his behalf.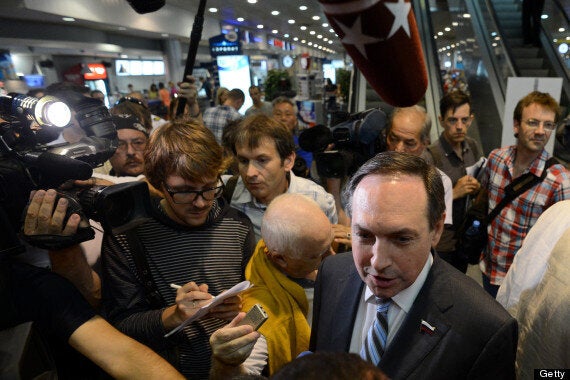 Pro-Kremlin lawmaker Vyacheslav Nikonov speaks with journalists before his meeting with US National Security Agency (NSA) fugitive leaker Edward Snowden
Russia's president Vladimir Putin originally said Snowden could stay in Russia on the condition he "stops harming our American allies" - effectively banning him from continuing to leak information about widespread surveillance by US companies on behalf of the government.
Snowden said he planned to meet these conditions. "I want the US to succeed," he said.
Speaking after taking part in the meeting, Sergei Nikitin, head of Amnesty International's Moscow office, said: "We will continue to pressure governments to ensure his rights are respected - this includes the unassailable right to claim asylum wherever he may choose.
"What he has disclosed is patently in the public interest and as a whistleblower his actions were justified. He has exposed unlawful sweeping surveillance programmes that unquestionably interfere with an individual's right to privacy.
"States that attempt to stop a person from revealing such unlawful behaviour are flouting international law. Freedom of expression is a fundamental right.
"Instead of addressing or even owning up to these blatant breaches, the US government is more intent on persecuting him. Attempts to pressure governments to block his efforts to seek asylum are deplorable."
Snowden emailed meeting requests to leading human rights organisations, including Amnesty International and Human Rights Watch, invitations which New York Times reporter Ellen Barry described as a "golden ticket" in Moscow.
The full text reads:

I have been extremely fortunate to enjoy and accept many offers of support and asylum from brave countries around the world. These nations have my gratitude, and I hope to travel to each of them to extend my personal thanks to their people and leaders. By refusing to compromise their principles in the face of intimidation, they have earned the respect of the world.

Unfortunately, in recent weeks we have witnessed an unlawful campaign by officials in the U.S. Government to deny my right to seek and enjoy this asylum under Article 14 of the Universal Declaration of Human Rights. The scale of threatening behavior is without precedent: never before in history have states conspired to force to the ground a sovereign President's plane to effect a search for a political refugee. This dangerous escalation represents a threat not just to the dignity of Latin America or my own personal security, but to the basic right shared by every living person to live free from persecution.

I invite the Human Rights organizations and other respected individuals addressed to join me on 12 July at 5:00PM at Sheremetyevo Airport in Moscow for a brief statement and discussion regarding the next steps forward in my situation. Your cooperation and support will be greatly appreciated in this matter.

Sincerely,

Edward Joseph Snowden

MEETING DETAILS:

Please meet at 4.30pm at Sheremetyevo airport in Terminal F, in the centre of the arrival hall. Someone from airport staff will be waiting there to receive you with a sign labelled "G9". Please bring a copy of this invite and ID to show that you work for your organization as security will likely be tight at this meeting. A maximum of three people are able to attend from each organization. For any questions please contact the airport administration on +8 916-816-4335.
"I'm not sure this is for real but compelled to give it a try," Lokshina said before heading to the airport. "Wouldn't want to create an impression that HRW is not interested in what Snowden has to say."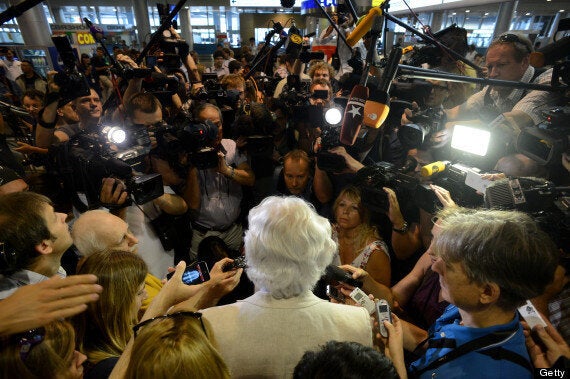 Lawyer Genry Reznik speaks with journalists inside the terminal F of Moscow's Sheremetyevo airport
Snowden cannot leave the transit zone without asylum documents. He has been stuck in limbo in the transit zone of Moscow's Sheremetyevo airport since June 23, where he arrived from Hong Kong after fleeing his Hawaii home having leaked documents to the Guardian and Washington Post.
He is wanted under the Espionage Act for leaking details of a hugely controversial NSA surveillance programme called Prism.
Popular in the Community