Rooney, whose hamstring injury has forced him to leave United's pre-season camp in Bangkok, requested a transfer from the Barclays Premier League champions earlier this year.
Ironically, Chelsea arrived in the Thai capital just as Rooney left, and Mourinho was predictably asked about the Blues' reported interest.
"It's a funny, tricky question from an ethical point of view as I can't talk about players from other teams," Mourinho said.
"But it is not my character to speak with hypocrisy, I always tell what I see – he's a player that I like very much. Being fast and direct I like him very much, but he's a Manchester United player."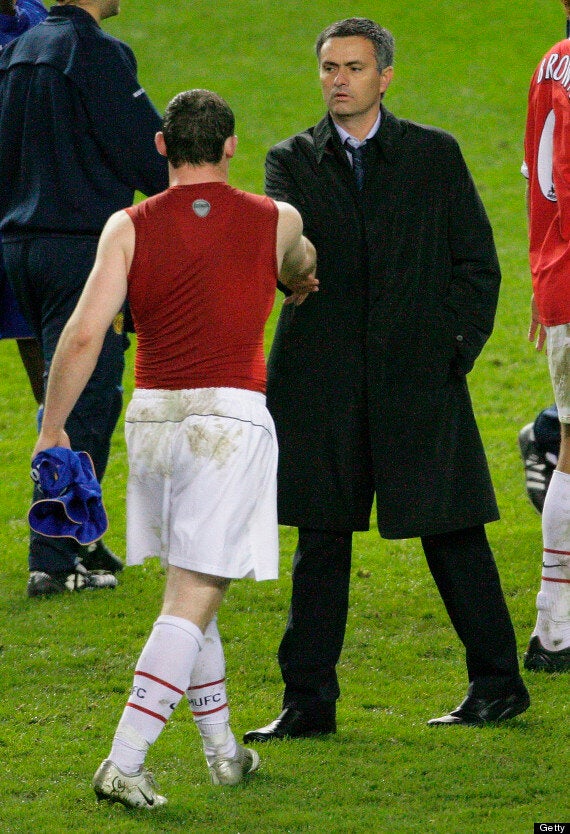 Mourinho with Rooney after Chelsea beat United at Old Trafford in 2005
When Sir Alex Ferguson confirmed Rooney wanted to leave United in October 2010, Mourinho, then Real Madrid manager, cheekily admitted his interest in the forward but correctly predicted the player would stay.
"He will stay. He probably wants to leave for some reason but I believe he belongs to Man United, he belongs to Man United fans, he belongs to Old Trafford," Mourinho stated. "I believe he is going to stay."
"But if at the end of the day Man United decide that he is to leave, then give me a call."