This weekend will bring the hottest day of the year so far, with temperatures set to reach a sizzling 31C (87.8F) on Saturday, weather experts have predicted.
The mercury will begin to creep up to the high-20s on Friday before spiking at the burning record on Saturday..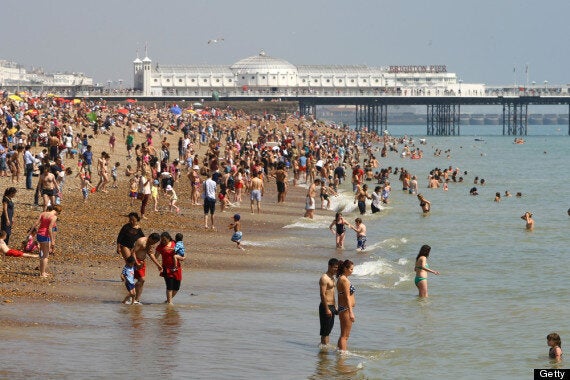 The Met Office has issued a health alert to accompany the heatwave forecast
The continued hot spell shows no sign of ending as temperatures settle around the mid-20s well into next week.
The Met Office has issued a Heat Health Alert, warning of the likelihood of heatwave conditions.
"Heatwaves can be dangerous, especially for the very young, very old or those with chronic diseases," the alert said.
The NHS Choices website warns that temperatures around 30C (86F) can have a significant effect on people's health if they last for at least two days and the night in between.
Tom Tobler, a forecaster with MeteoGroup, the weather division of the Press Association, said Saturday's weather is very likely to beat the current record of 29.7C reached in Bournemouth on Sunday.
"It's certainly going to be a very hot weekend with lots of sunshine.
"Temperatures are predicted to reach at least 31C on Saturday, which will make it the hottest day of the year so far.
"Temperatures will drop a few degrees on Sunday into next week but we can't see any sign of the hot weather changing over the next week.
The north of the UK has seen the best temperatures over the last few days, with the highest recording of 28.8C in Castlederg, Northern Ireland on Thursday.
But the heat will now start to spread south where it has been cooler, leaving behind relatively low temperatures of 20C (68F) to 22C (71.6F) in Northern Ireland and Scotland.
Yorkshire is likely to be the hottest area on Friday before the south welcomes the top highs.
The heat could lead to a few local thunder storms in the east of the country.
Related