The United States has called on Egypt's armed forces to free former President Mohamed Morsi, deposed in a coup after violent protests against his regime.
Thousands of his supporters gathered in the east of Cairo to demand his release on the first Friday of Ramadan, as secularist protesters gathered in Tahrir Square.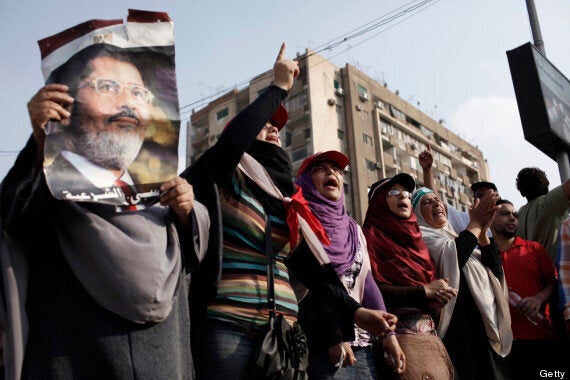 Supporters of deposed Egyptian President Mohammed Morsi stand by a set of barricades built near the headquarters of the Egyptian Republican Guard
"We are ready to stay for a month, two months, a year or even two years," an ultraconservative Salafi cleric, Safwat Hegazi, told protesters from a state set up in front of the Rabaa al-Adawiya Mosque, according to AP.
"Some women proposed to bring ovens to bake sweets for the Eid."
Germany's foreign ministry has called for an end to the restrictions on Morsi's movement and called for the army to allow the Red Cross to visit him.
Asked if the US agreed that he should be released, state department spokeswoman Jen Psaki told reporters: "We do agree."
The state department has been cautious about welcoming the deposition of Morsi, but said it was "clear that the Egyptian people have spoken," when asked on Wednesday whether Washington still considered Morsi the legitimate president.
"There's an interim government in place... this is leading the path to democracy, we are hopeful. And we are in touch with a range of actors. But obviously, he is no longer in his acting position."
Challenged about the fact that, under Morsi, Egypt already had a democratically elected government, Psaki said: "It wasn't a democratic rule. That's the whole point."
Washington is due to send four F-16 fighter jets to Egypt, but has so far refused to confirm the delivery will go ahead, saying it is currently examining whether, under US law, the takeover is defined as a coup.
US law prohibits the sending of aid to any country whose elected leader is deposed by a military coup.
Related