Seven police officers and an MP were among those injured during a night of fierce violence in Northern Ireland.
Four hundred extra police officers from Great Britain are being deployed to Northern Ireland, to assist more than 600 mutual aid officers from England, Scotland and Wales were already in the region supporting the Police Service of Northern Ireland
Democratic Unionist Party MP Nigel Dodds was taken to hospital after being struck in the head by a brick when sectarian tensions in North Belfast spilled into violence.
A DUP spokesman said it appears Dodds was hit by a brick or piece of masonry while he was "in and around the police lines" and was talking to the officers. Sectarian tensions in North Belfast spilled into violence
He was taken to the Royal Victoria Hospital in West Belfast where a hospital spokeswoman said his condition was stable.
A Police Service of Northern Ireland (PSNI) spokesman confirmed Mr Dodds had been injured and added that four officers in the area were hurt, three knocked unconscious, and were receiving treatment for their injuries at a local hospital.
Rioting loyalists, some wielding swords, attacked police in a major outbreak of violence in the area, injuring at least seven police officers.
Sticks, fireworks, drain pipes, and part of a wall were hurled at police. Rioters as young as 14 were involved.
Around 20 baton rounds were fired and water cannon used by officers.
Rioting also broke out in East Belfast, where police confirmed they came under attack with a sword and missiles and water cannons were deployed.
One man was arrested for disorderly behaviour and another for provocative behaviour.
Loyalists were responsible for the missile throwing, eyewitnesses said.
One of the injured officers in North Belfast is being treated for head and leg injuries, police said last night.
A PSNI spokesman said: "There is an element within these crowds that is intent on violence. Public safety is of paramount concern and individuals if they are gathering to watch events are advised to disperse."
The North Belfast violence broke out following the decision by the Government-appointed Parades Commission to bar Orangemen from walking through Ardoyne, a contested flashpoint area where dissident republicans have gathered in the past to attack police.
It followed a day of peaceful Twelfth of July holiday loyal order parades across Northern Ireland, the pinnacle of loyalists' marching season.
DUP leader and Stormont First Minister Peter Robinson called for calm in Belfast.
"Violence and attacks on the PSNI and the wider community are wrong, can never be justified and must stop," he said.
"While there is justifiable anger and frustration at the Parades Commission, who bear much responsibility for the situation in Belfast as do those who attacked parades as they passed certain locations, nonetheless, those who are using the cover of protest to attack the police are massively damaging the cause they support.
"Violence is undermining a just cause and runs totally against the wishes of the Orange Order for protest to be entirely peaceful.
"My thoughts are with those who have been injured this evening, including my colleague Nigel Dodds MP and other Orange Order members, police officers and civilians. I appeal for cool heads to prevail at this time."
Ulster Unionist Stormont MLA Michael Copeland said the situation on the Lower Newtownards Road in East Belfast has been extremely dangerous.
Bricks and bottles were thrown by both sides and he claimed marchers came under a barrage of bottles as they walked home from a Twelfth demonstration.
"In my opinion this situation was entirely avoidable," he said.
"The Parades Commission has rewarded bad behaviour last year and has pushed a community which is very, very angry and is not prepared to be pushed."
PSNI Chief Constable Matt Baggott condemned those responsible for the trouble.
"The scenes were both shameful and disgraceful," he said.
"We said that we were resolved to uphold the rule of law and the Parades Commission determination not to allow the return parade past the Ardoyne shop fronts. We did that. We did so impartially. We did so firmly.
"I cannot praise highly enough this morning the courage, the professionalism and the restraint of my PSNI colleagues, and those from England, Wales and Scotland who joined us in making sure the rule of law was upheld."
Baggott also criticised those within the Orange Order who had called for protests.
He said they needed "to reflect on whether they provided the responsible leadership asked for by myself and by the (main political) party leaders.
"Some of their language was emotive and having called thousands of people to protest they had no plan and no control and, rather than being responsible, I think the word for that is reckless."
Dodds is deputy leader of the DUP. The former lawyer has been North Belfast MP since 2001 but was suspended from the House of Commons chamber last week after the Parades Commission said it would ban the parade in Ardoyne.
He accused Northern Ireland Secretary Theresa Villiers of deliberate deception after she responded to the Commission's action.
A man who treated Dodds at the scene told the BBC: "I was standing right beside him listening to his conversation.
"He grasped his head as he went down. He was knocked out cold. I put him in the recovery position and checked his airway. A crowd gathered and then the ambulance arrived and he was taken away by ambulance. I felt sorry for the fella."
"He was unlucky because he was also hit by water cannon as I was trying to administer first aid and he got soaked," he added.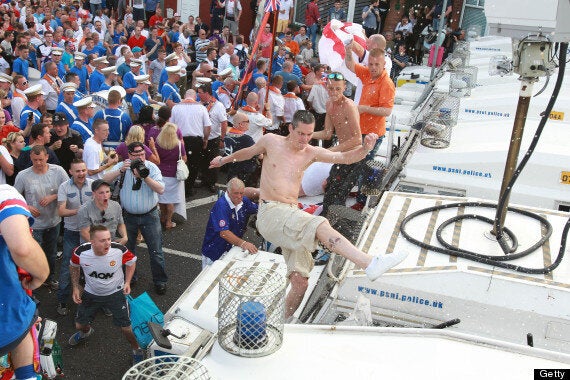 Orangemen protesters clash with police on the return from a march in north Belfast, Northern Ireland
Shortly before he was hurt, Dodds said: "This sort of situation here creating a bottleneck at this junction, the Parades Commission decision to block it here, this is the inevitable outcome.
"The police were well aware that was the danger the Parades Commission had put them in. I would appeal for everybody to stay calm, not to get involved in violence. The Grand Lodge have made it clear they do not want violence and the people who want to engage in violence should desist immediately."
Loyalist bandsmen, many highly intoxicated, played sectarian tunes at police lines while bricks and bottles were thrown.
At one point a rioter broke down a section of wall and threw it at police shields. Others used sticks and pieces of drainpipe to batter police vehicles while some danced on top of the force's Land Rovers and tried to rip off protective plating.
Sinn Fein MLA Gerry Kelly blamed the violence on the Orange Order and unionist politicians.
"Speech after speech at the various (Orange) demonstrations were clearly designed to stir up sectarian tension and have alongside the Orange Order's failure to abide by Parades Commission determinations led directly to the violence in Belfast...," he said last night.
"No amount of hand wringing or denial in the coming days from the Orange Order and unionist politicians can alter that reality.
"People had a right to expect better, instead what we got was a very deliberate strategy with the inevitable results being seen on the streets..."
Petrol bombs have been thrown at police lines on the Lower Newtownards Road, a spokesman for the force said. No injuries were recorded.
There was trouble outside St Matthew's Catholic church on the Newtownards Road.
The Orange Order has appealed for calm and asked that all parades be peaceful.
Sinn Fein are the DUP's main power-sharing partners at Stormont. Senior Sinn Fein MLA Alex Maskey accused Robinson of a failure in leadership.
"Peter Robinson is the First Minister for all people, not for the Orange Order or any other sectional interest," he said.
"Pretending that the Parades Commission is to blame for attacks on the police or for attacks on the Catholic community in the Short Strand (East Belfast) simply isn't a tenable position for him to adopt."
The DUP has called a special meeting of the Northern Ireland Assembly for Tuesday to discuss the Commission's decision on Ardoyne which could now focus on recriminations following another night of violence.
Maskey added: "Instead of confronting the reality of this violence and the role of the Orange Order in it the First Minister instead attempted to blame the Parades Commission for the disgraceful scenes in Belfast.
"This is disappointing and a failure in leadership."
Northern Ireland Secretary of State Theresa Villiers said there was no justification for the trouble.
"I utterly condemn the rioting that took place in Belfast last night. Attacks on the police are completely unacceptable and there can be no justification for this kind of behaviour," she said.
"This sort of behaviour does nothing to promote 'Britishness' or the pro-union cause.
"Rather it undermines it in the eyes of the overwhelming majority of people here in NI and in the rest of the UK.
"Once again I pay tribute to the bravery of the Police Service of Northern Ireland and officers from Great Britain who did such an outstanding job in upholding the rule of law. They deserve our utmost praise and support.
"I am sure that the PSNI will be examining the evidence carefully; those who engaged in rioting can expect to face the full force of the law. If convicted, that will inevitably for some mean prison.
"It is right that the Orange Order has suspended its protests. I would now appeal to the Orange Order to call them off completely.
"It is the clear responsibility of everyone who has influence, including the Orange Order, community leaders and politicians, to do what they can to calm the situation. We need temperate language over coming days.
"We cannot have a repeat of last night with more police officers injured and young people drawn into violence with the inevitability of criminal convictions that will blight the rest of their lives.
"The way forward has to be through dialogue so that we can find local solutions to contentious parades. I welcomed the talks that began last week. They need to resume and the violence needs to end."