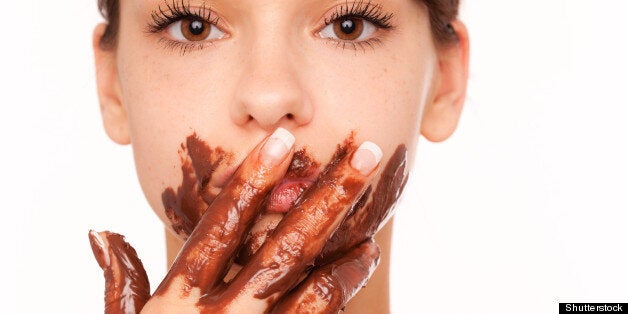 Low fat chocolate, as we know it, often tastes like cardboard with a side order of plastic. But perhaps the trick all along should have been just to try and make a decent tasting chocolate with less butter and cream - which is exactly what London-based chocolatier Aneesh Popat has done.
Aneesh hadn't intended to make a chocolate with literally half the calories of normal chocolate - he was actually attempting to create a purer type of chocolate.
Instead of mixing the cocoa with butter and cream (which is what supersizes the calories) he used water, creating what he calls a 'water ganache'. The water and high quality cocoa is then infused with interesting flavours such as cardamom, rose, salt water caramel and fennel among others. Yum.
The idea is that not only does the chocolate taste purer, but you don't end up with residue on your tongue. (All the better to hide the fact that you've just scoffed 10 of the gorgeous morsels).
HuffPost UK Lifestyle caught up with Aneesh, who said: "When you mix chocolate with water, it splits the chocolate like lemon and milk. But I have special technique to emulsify the chocolate together. Like a fine wine, you can taste different notes and cocoa tastes different according to the region it is from. I wanted to harness that and get all the delicacy."

The new range of chocolates aren't just good for those of us on diets, but also for vegans and lactose intolerants. He adds: "We realised later that the entire dark range of truffles is dairy free and vegan, which like the lower calories, was an accident. Now we're in Michelin star restaurants and five star hotels – it just happens that the chocolate has 45% fewer calories."
Aneesh has been running his own sweet-making business called The Chocolatier for two years, and has plans to open his own shop. When that happens, he says he can bring the truffle calories down to 30%. He currently does commissions for Penhaligon's, the Maharajah of Jodhpur, and his chocolates are served at Apicius, a restaurant in Kent.
Although eating the chocolates won't help you lose weight, they do make a good addition to a list of treats that won't create flurries of guilt. Furthermore, last year, a study revealed that dark chocolate is good for the heart as it helps to lower blood pressure. The Cochrane Group Report, the BBC reported, revealed that cocoa contains chemicals that help to relax the blood vessels.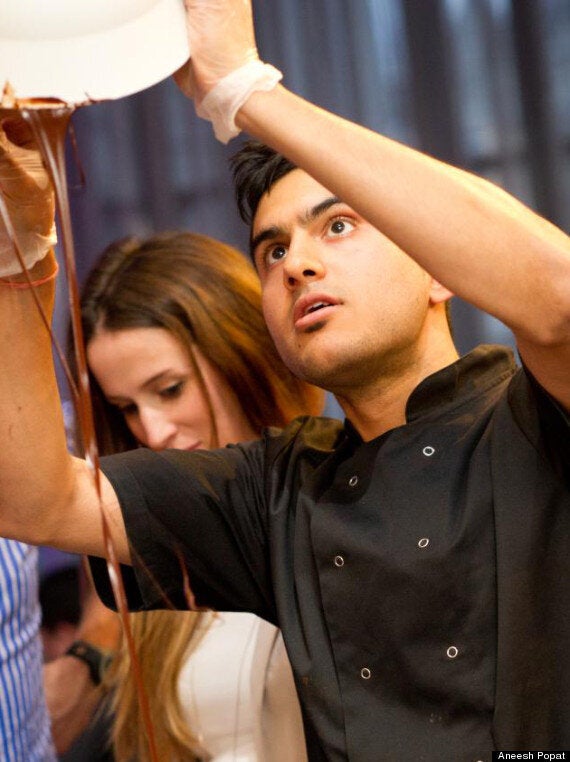 Here's what the HuffPost UK and AOL team had to say about it:
Poorna Bell, Lifestyle Editor: "I'm not a big chocolate person (yeah, yeah, I know) but I am partial to dark choc. This is smooth, rich and creamy. As promised, there are no remnants on the tongue. The cardamom is the strongest flavour and it just bursts into creamy chocolate."
"Not quite your perfect Malteser," says Caroline Frost, Entertainment Editor. "The taste is rich, sweet with a very slightly bitter aftertaste. I can't tell this is low calorie at all!"
Andrea Mann, Comedy Editor, says: "I love it. dark, somewhat bitter, but incredible. At the risk of sounding like an ad: it tastes like chocolate SHOULD taste!"
"The flavour was a bit of a shock to the system. There is too much lime in the lime to salt ratio for my liking, but a lovely texture inside the outer coating," says Liz Stansfield, Deputy Editor for Parentdish.co.uk. "I couldn't tell it was low fat and would be interested to taste the other flavours in the range."
Matt Bagwell, Celebrity Editor says: "Yum. I would never have known that was low fat. Loved the combo of flavours too in a it-shouldn't-work-but-does kinda way."
The chocolates start from £11.95 for a box of six.