Sympathising with a player who was rewarded for fluttering his eyelashes at Manchester City with a £250,000 per-week contract two-and-a-half-years ago feels perverse and yet Wayne Rooney deserves a shred of it.
Fittingly, it was against Chelsea, his likely employers next season. Rooney's 21-minute cameo in the inconsequential encounter ended with a rant at Howard Webb over a non free-kick which ultimately led to the visitors' winner. Webb made the correct call but Rooney was enraged and ran the length of the pitch to confront him. It merely symbolised his disenchantment with United and his manager.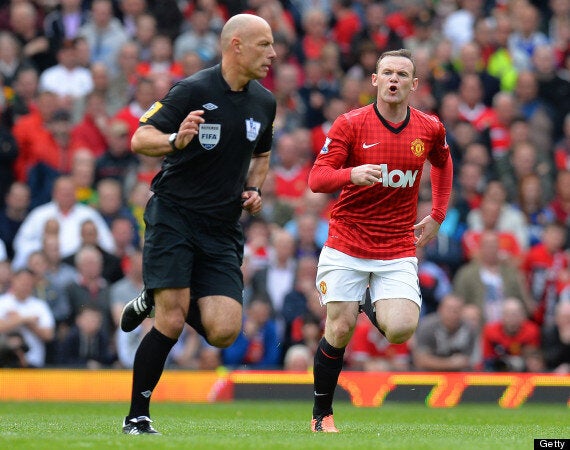 Rooney's last United game was the 1-0 loss to Chelsea
Rooney had already attended the meeting with Sir Alex Ferguson which ultimately launched the countdown to his United exit. Ferguson says Rooney handed in a transfer request, Rooney maintains he didn't. Irrespective of which side of the story is true, United fans were not going to side with a wantaway striker over their revered manager, saddling up to ride into the sunset with a 13th Premier League title.
But United fans' ill-feeling towards Rooney masks their empathy with him. Rooney requested that meeting for clarification over his role in the team, which has been inconsistent for nearly seven years.
Careers hinge on matches, memorable or not, and the Estadio da Luz hosted three milestones for United in September 2006. One: it was the true beginning of the formidable Nemanja Vidić-Rio Ferdinand axis. Two: Louis Saha's winner ended a run of almost three years without victory away from home in the Champions League. And three: it was the beginning of Rooney's downfall.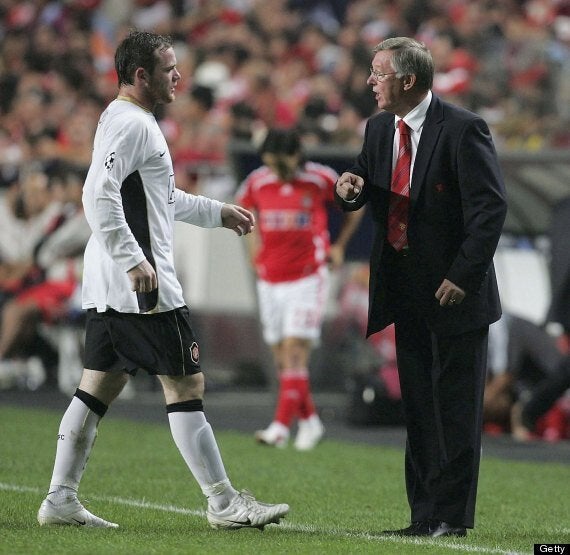 Ferguson attempts to get his point across to Rooney in Lisbon, 2006
Banished to the wing, the Guardian's minute-by-minute coverage correctly described his performance as "a shocker". On one occasion, Ferguson, standing anxiously on the touchline, became visibly exasperated when Rooney failed to control a routine pass and stomped his feet in despair. Cristiano Ronaldo, meanwhile, was instrumental to United's win and cemented his status as the team's talisman ahead of Rooney.
Rooney began the season with two goals against Fulham but was suspended for the next three matches due to a ridiculous red card in the Amsterdam Tournament which the Dutch FA upheld, much to United's chagrin. He either starts campaigns prolifically or poorly, and 2006-07 was the latter. Rooney ended the season with a credible 23 goals - the same amount as Ronaldo - but he was becoming marginalised, and that was confirmed when Carlos Tévez arrived.
Ferguson has played Rooney as a lone striker, off the striker, on the wing and in central midfield. Even Rooney's best season - the 34-goal 2009-10 term - came as a number nine when he was bought from Everton in 2004 as one of world football's outstanding teenage number tens. Ferguson admitted four years ago it was imperative United allocate Rooney a regular slot, but he reneged on that pledge and the 27-year-old has largely been wasted at Old Trafford.
Yet he has scored 197 goals for the club, won five Premier League titles, two League Cups, a World Club Cup and a Champions League winners' medal. His nine years at United, despite the Glazer ownership, have been a success, largely thanks to his former manager.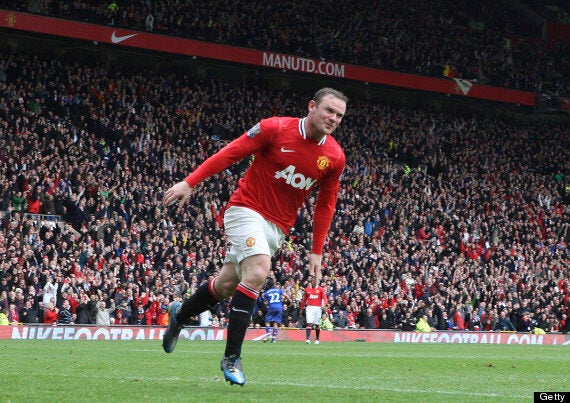 Rooney usurped George Best in United's all-time goalscorers' list against Everton in 2012
Ferguson's tinkering has sporadically unsettled Rooney, though. Whereas Ronaldo always boasted more ability and athleticism, the same could not always be said of Robin van Persie, but the Dutchman has arrived at Old Trafford and reduced Rooney, the self-confessed "big man", to a little man.
There was also the 2011 Christmas time fine and his subsequent omission for the New Year's Eve defeat to relegation strugglers Blackburn Rovers. Rooney was punished for going out drinking with Darron Gibson and Jonny Evans (also both dropped), but another senior United player, who was necking shots in Manchester on the same night, was not disciplined. Ferguson scapegoated Rooney and essentially confirmed, as some had suspected, he would not forgive him for wanting to leave the club the previous year.
Moyes' arrival was supposed to give Rooney hope of a future at United, but like his predecessor, he has cutely undermined the forward. His weekend comments - as well as chief executive Edward Woodward's - effectively informed Chelsea United would entertain an offer. With Rooney in a different continent, his "anger and confusion" is understandable, especially after Moyes pledged the former Everton man would stay.
But Moyes has played the politics soundly. He could not risk devaluing Rooney at his first press conference when United could command at least £25 million for him, and Ferguson will have briefed and advised his successor exactly on what Rooney had said to him in the spring tête-à-tête. Rooney has felt the wrath of Moyes already
Moyes is maybe too in thrall of Ferguson ("I'm saying to myself I'd never, ever, go to a meeting with Sir Alex with a pair of jeans on. I'm saying, I just can't do this!"), and, like United fans, there is only one man he is going to side with.
The irony is Rooney is unsettled because United have bought good players. In October 2010, Rooney explained he wanted a transfer because Ferguson "did not give me any of the assurances I was seeking about the future squad", after United had signed Chris Smalling, Javier Hernández and Bébé that summer.
Rooney was right to be sceptical when United had banked £80m from Ronaldo's transfer to Real Madrid and had not spent half that amount in two summer windows, having relinquished their league title to Chelsea. Karim Benzema and Mesut Özil were two smokescreens who both joined Real Madrid in successive summers and Rooney, 24 at the time, had just enjoyed a stellar season.
But since the Glazer family allowed Ferguson more funds to bring in not just Van Persie, but the popular Shinji Kagawa as well, Rooney has regressed when he ought to have thrived. His performance level in 2011-12 was underwhelming, though his big-game prowess was formidable, and 2012-13 will be remembered for his overweight start at Goodison Park, pathetic penalties, Champions League demotion in favour of the profligate Danny Welbeck and the transfer request.
Since Ferguson said he wanted to leave two months ago, Rooney has maintained his silence apart from addressing his Twitter bio change and expressing how "gutted" he was to have left United's tour last week.
"Angry and confused" is what defenders used to experience when Rooney petrified them. Now it reflects his decline from pivotal to peripheral.
Popular in the Community