Children eating free lunches at their school in India died within hours of eating a meal of lentils, soybeans and rice.
Some 20 children have died so far, with at least 30 more students seriously sick in hospital, including the school cook.
The schoolchildren, who were aged between 8 and 12 years of age and from India's poorest state of Bihar, died after eating free dinners cooked in the school kitchen.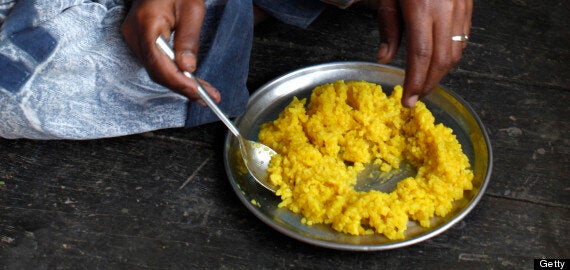 A child eating a free school meal in India (file photo)
The tragedy took place at the government primary school in Dahrmasati Gandawan village at Mashrakh block, about 60 km from state capital.
Pupils started vomiting immediately, and most were pronounced dead on arrival at hospital.
Amarjeet Sinha, an education official in Bihar, said that investigators suspected the deaths had been caused by poisoning with organo-phosphorous contained in insecticide. Forensic officers are investigating.
"It is sad but true that 20 children died after eating their midday meal, which appears to be poisonous," said education minister of Bihar state P K Shahi.
Superintendent of PMCH Amarkant Jha Azad said that the victims were admitted in the ICU of paediatric department and senior doctors attending to them round the clock.
Shocking India TV footage showed the sick and dying children stretched out on hard wooden beds, being given intravenous drips in the heat, as family members fanned their children.
Families of the dead victims would receive compensation of 200,000 rupees each, £2222.
The Mid-Day Meal programme is the world's largest food programme, supplying 120 million children in 1.2 million schools across India.
Related