Driverless cars will be on UK roads by the end of this year.
The government is to test driverless cars- albeit with the a back-up driver to take over if anything goes horribly wrong - in an effort to find new solutions to heavy traffic.
A lot of attention is being paid to the technology, as part of the Department of Transport's wider £28bn investment into reducing congestion and making commuting safer and more efficient.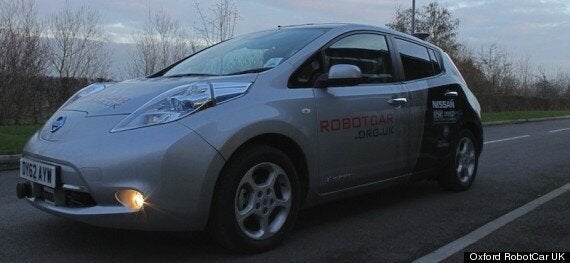 So far the cars have been tested at a science park in Oxford
A report outlining the project said the cars, to be tested by researchers from Oxford University, will travel "using knowledge of the environment in which they are driving".
It added: "They maintain a safe distance from the vehicle in front at a set speed and without deviating from their lane - all without the driver's input."
Driverless cars use sensors and cameras to navigate and monitor other vehicles on the road.
Experts believe that such systems could cut road deaths, allow handicapped people to travel and make driving more productive as people would be free to work as they commute.
The technology has been around for a number of years but testing has been limited to private land in the UK.
The American private sector has been forging ahead with the idea too, with Google covering more than 300,000 miles of public roads with its fleet of autonomous Toyota Prius'. California has even signed legislation outlining safety and performance regulations for driverless cars, effectively making them legal.
Google co-founder Sergey Brin said at the time: "I think the self-driving car can really dramatically improve the quality of life for everyone. He added the new technology "will be far safer than human-driven cars".