Britain has supplied £12bn of arms to some of the world's most brutal dictatorships and human rights abusers, including Iran, Saudi Arabia, Zimbabwe, China and Belarus, a report by MPs has revealed.
Almost half of all exports were sent to Israel.
The UK also sent arms to countries who have tense relations with Britain, including Russia, which still supplies weapons to Syria's President Assad, and Argentina, despite its threats over the Falklands.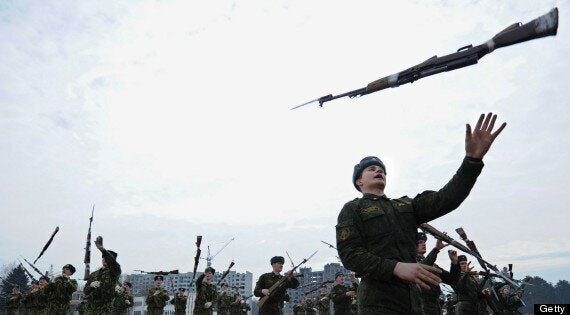 Belarus honour guard soldiers practise with rifles at their company in Minsk (file photo)
Sales to Sri Lanka raise "very serious questions", the report by MPs says. Three licences still remain valid for Syria.
The UK sold arms to almost all of the countries which the Foreign Office blacklisted as human rights abusers. Just North Korea and South Sudan, out of 27 countries of concern, received no valid export licences.
More than 3,000 export licences for the sale of arms and other military-related equipment to states on the Foreign Office's list of countries of human rights concern have been issued and remain in force.
The Commons Committees on Arms Export Controls said the combined value of the individual export licences alone came to more than £12 billion.
The Syrian licences are for components for four-wheel drive vehicles with ballistic protection, which may well have been provided to an aid organisation.
But there are also hydrophone arrays, which can be used to listen underwater, which MPs said they had serious concern about. The equipment is "dual-use", military or civilian. The report points out the Government needs to confirm that it is not breaking international arms sanctions against Syria.
While the CAEC acknowledged many of the licences were for dual-use (military or civilian) items or other equipment which could not readily be used for internal repression, it said the numbers were still "surprisingly large"
The countries for which the largest numbers of licences have been issued include China with 1,163 with individual licences worth £1.4 billion, Saudi Arabia with 417 licences and a value of £1.8 billion, and Israel and the Occupied Palestinian Territories with 381 licences and a value of £7.8 billion.
This one licence to Israel, granted in February 2012, accounted for well over 50% of the value of all existing licences to the countries in question.
"The scale of the extant strategic licences to the Foreign Office's 27 countries of human rights concern puts into stark relief the inherent conflict between the Government's arms exports and human rights policies," CAEC chairman Sir John Stanley said.
"The committees adhere to their previous recommendation that the Government should apply significantly more cautious judgments when considering arms export licence applications for goods to authoritarian regimes 'which might be used to facilitate internal repression' in contravention of the Government's stated policy."
Amnesty International's arms control expert Oliver Sprague said: "Looking at these, the Government's own figures, it would be hard not to conclude that the UK government's arms sales practices are at odds with its stated policy not to send weapons to anywhere that poses a clear risk that they could be used for human rights violations.
"What is needed now is an urgent explanation of what these licences were actually for, who was going to use them and what assurances were in place to ensure they were not going to be used for human rights violations. Until there is much greater transparency over exactly what we are selling and to whom, it will be impossible for Parliament or the public to have confidence in the UK's arms sales policies."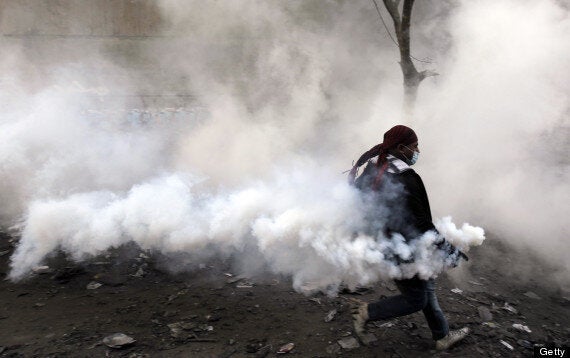 British-manufactured teargas was reportedly used against pro-democracy protesters in Egypt
The CAEC also strongly condemned the Government's "reprehensible" failure to lobby other countries to follow its lead in imposing tighter controls on exports to Argentina, despite recent claims by Argentine foreign minister Hector Timerman that it would not take "another 20 years" for them to regain control of the Falklands.
The Foreign Office's list of countries of concern comprises Afghanistan, Belarus, Burma, China, Colombia, Cuba, North Korea, the Democratic Republic of Congo, Eritrea, Fiji, Iran, Iraq, Israel and the Occupied Palestinian Territories, Libya, Pakistan, Russia, Saudi Arabia, Somalia, South Sudan, Sri Lanka, Sudan, Syria, Turkmenistan, Uzbekistan, Vietnam, Yemen and Zimbabwe.
Argentina is one of five additional countries about which the CAEC has raised concern - the others are Bahrain, Egypt, Madagascar and Tunisia.
The CAEC is made up of the the Commons Defence, Foreign Affairs, International Development and Business, Innovation and Skills committees.
Labour MP Richard Burden, who chairs the Britain-Palestine All Party Parliamentary Group, said: "Many of the countries on the list are in the Middle East and North Africa.
"But what is most striking is that over half of the total is going to 'Israel and the Occupied Palestinian Territories'.
"Look a little closer and you see that almost all of those exports are going to Israel, with only £5,539 going to the Occupied Territories.
"Look closer still and you see something utterly astonishing - 380 different licences have been granted for exports of arms and military equipment to Israel.
"However, £7,765,450,000 of the £7.8 billion worth of equipment exported to Israel is covered by just one licence approval - for equipment employing cryptography and software for equipment employing cryptography.
"This is bizarre, particularly as there are scores of other licences granted for export of cryptography equipment and software which have a substantial value - but still only add up to a tiny fraction of this amount.
"I am tabling questions to the minister today to find out just what this licence was all about. Is just one company involved? Why does the scale of this licence dwarf all others with similar titles? What does the contact actually involve?"
A Department for Business, Innovation and Skills spokesman said: "The Government takes its export responsibilities very seriously and operates one of the most rigorous arms export control regimes in the world.
"An export licence would not be granted where we assess there is a clear risk the goods might be used for internal repression, provoke or prolong conflict within a country, be used aggressively against another country or risk our national security.
"All licences highlighted in the Committees' report were fully assessed against a range of internationally agreed stringent criteria which take into account the circumstances at the time the licence application was made.
"When circumstances change or new information comes to light we can - and do - revoke extant licences where the proposed export is no longer consistent with the criteria."
Related