The energetic Russian protest leader Alexei Navalny, named the country's 'Mandela' for his devoted followers and fierce opposition to the establishment, has been jailed for five years in what many perceive to be a politically-motivated sentence.
Anti-corruption activist Navalny, who dubbed President Vladimir Putin's United Russia party as "the party of swindlers and thieves", is a hipster celebrity in his home country
He conducts his offensives against the Russian political machine on social media, detailing his movements on Instagram, blogging furiously, and even tweeting throughout his three-hour sentencing hearing for embezzlement.
He posted photoshopped pictures of the judge as the leader of a Satanic ritual, and throughout his trial joked about the TV show Breaking Bad and posted pictures of cats to entertain his followers.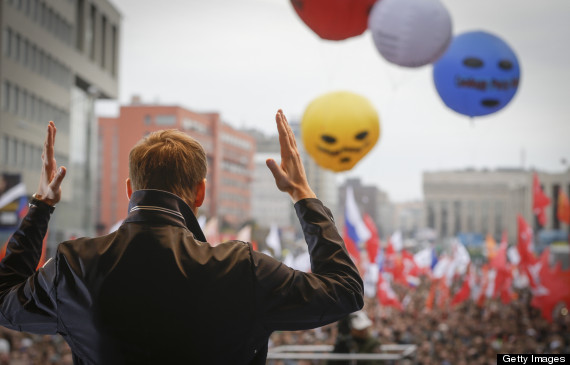 Russian opposition leader Alexei Navalny
Похоже "@FakeNTV: pic.twitter.com/z2vNYK7n0D"

— Alexey Navalny (@navalny) July 18, 2013
Last year, he was on the cover of Russia's Esquire, which named him the most famous blogger in Russia, digging deep into the everyday corruption from local councils and politicians to the top of the Kremlin.
Even as Judge Sergei Blinov said the anti-corruption campaigner was guilty of defrauding a timber firm, and sentenced him to five years in prison, Nalvany continued to tweet his followers.
Tweeting before the verdict, Navalny predicted the outcome, and said the judge was simply repeating the accusations made by prosecutors.
"There will be no nice scenario with an acquittal," he tweeted.
And his followers sent pictures back, some showing them putting their middle finger up to the courtroom, as they watched on television.
Navalny's last tweet: OK. Don't miss me. Main thing, don't be lazy -- the toad will not take itself off the oil pipeline. RT @navalny:

— Ellen Barry (@EllenBarryNYT) July 18, 2013
Nalvany, a father of two, had declared his candidacy for Mayor of Moscow, but the sentence has put the kibosh on his political ambitions.
If he serves his full term in prison, he will not be free until after the next Presidential elections, and his team have already withdrawn from the mayoral nominations.
His alleged accomplice and co-defendant, businessman Petr Ofitserov, received a four-year sentence. Amnesty has called for their immediate release, naming them political prisoners.
Russian political expert Lilia Shvetsova told the BBC that Navalny's young supporters will be greatly angered by his imprisonment.
"Navalny is becoming a martyr, a new Russian Mandela. Of course they will be prepared to confront the authorities in the future."
"Everyone was always asking: When will they come [for me]? And now you think: Well, here they've come," he told the Guardian in an interview during his trial, saying he had endured endless harassment and charges. Navalny takes a photo during his day in court
The charge that sent him to prison on Thursday was the allegation that he embezzled 16m roubles' (£330,000) while advising the Kirov region's governor Nikita Belykh in 2009.
The judge has repeatedly insisted that all allegations of bias and impartiality are totally unfounded.
Nalvany refused to stop referring to the political nature of the trial, even when warned by the judge. "You want me to be here discussing wood? For me to pretend that it is not present on the political process?
"If someone is hoping that I will be silent and wait for the violence, it will not happen. I will act, of course, subject to the law, but I will say what I think is necessary."
"We will destroy this feudal society that is robbing all of us," he said in his closing remarks earlier this month.
"If somebody thought that on hearing the threat of six years in prison I was going to run away abroad or hide somewhere, they were mistaken. I cannot run away from who I am."
Journalists reporting from the courtroom reported most of the crowd watching the case were in tears, including some of the reporters.
Many discussions of crossing Rubicons over the last year, but this is a real Rubicon, and it has been crossed.

— Ellen Barry (@EllenBarryNYT) July 18, 2013
Navalny told me in summer 2012 it was absolutely ridiculous to compare him to those fighting Apartheid. Doesn't look so ridiculous now,

— Ben Judah (@b_judah) July 18, 2013
several journalists are weeping. #unprecedented

— Nataliya Vasilyeva (@NatVasilyevaAP) July 18, 2013
The Foreign Secretary William Hague said he was concerned about the verdict. "The decision to sentence him for 5 years has highlighted once again the concerns felt by many about the selective application of the rule of law in Russia. We understand Mr Navalny intends to appeal this judgement," he said in a statement.
"I call upon the government of Russia to respect fully the principles of justice and ensure that the rule of law is applied in a non-discriminatory and proportionate way."
Catherine Ashton, the EU's high representative, who has come under fire for not pursuing the case aggressively enough with Russian diplomats, said after the verdict that she was "concerned about the guilty verdict and the prison sentences" and said the charges "have not been substantiated during the trial".
"This outcome, given the procedural shortcomings, raises serious questions as to the state of the rule of law in Russia. The High Representative hopes that their sentences will be reconsidered in the appeal process."
Former Russian finance minister Alexei Kudrin, tipped by some as a contender for the country's next Prime Minister, said the verdict was "not so much a punishment as a way to isolate him [Navalny] from public life, and from the electoral process."
The US ambassador to Russia, Michael McFaul tweeted that he was "deeply disappointed in the conviction of Navalny, and the apparent political motivations of this trial."
The UK's Green Party leader Natalie Bennett questioned the possibility of boycotting the Sochi Olympics 2014.
"The international community needs to send a clear message to Russia that this is not acceptable behaviour, and stronger action needs to be taken in suspending cooperation across a range of areas.
"The fate of the 2014 Sochi Winter Olympics must also come under increasing question. No competitor or spectator can be sure of safety and freedom in Russian's current political climate."
A rally has been organised in Moscow to protest the verdict, on Manezh Square just outside the Kremlin, with more than 8,000 confirming their attendance.
In his final tweet, Navalny posted the picture advertising the rally, an image of Putin with the words 'God Have Mercy On You'.
July 18, 2013
'A PARODY OF A PROSECUTION, A PARODY OF A TRIAL'

Human rights groups have been quick to condemn the sentence handed down to Alexei Navalny, calling him a "political prisoner".

"From the start there were clear indications that the criminal prosecution of Aleksei Navalny was politically-motivated," Amnesty International Europe and Central Asia Director John Dalhuisen said.

"This was a parody of a prosecution and a parody of a trial. The case was twice closed for lack of evidence of a crime, before being reopened on the personal instruction of Russia's top investigator.

"The charges were based on a manifestly erroneous assessment of the loss incurred by the state, while the evidence that Navalny abused his position to force through the sale was inconclusive; none was even presented to suggest that he personally profited financially from the transaction.

"Navalny may or may not have used his position to secure a favourable deal for an acquaintance, but it cannot possibly be argued that he defrauded the state of the entire worth of the timber at market price, when a significant sum was still paid for it.

"The trial of Aleksei Navalny and Petr Ofitserov cannot be seen outside the context of the political harassment of Navalny and his supporters, and appears to be linked to his campaigning against corruption and political activities in recent years.

"It demonstrates how the Russian authorities abuse criminal prosecutions to persecute government critics and suppress political opposition and civil activism. This fits into the broader crackdown on the freedoms of expression, association and assembly under way in Russia today."

His comments were echoed by Human Rights Watch's Rachel Denber, deputy Europe and Central Asia director.

"No one will be surprised at today's guilty verdict against the Russian political opposition leader Alexei Navalny – it is the culmination of a criminal prosecution brought for political reasons with a preordained conclusion. Still, the sentence is shocking," she said.

"The case is part of a broader government crackdown under way in Russia to silence a fierce critic and weaken the opposition movement. It is impossible to see this case through any lens other than a political one."