The judge in the Bradley Manning Wikileaks case has refused to dismiss a charge of 'aiding the enemy' sparking fears it could effectively criminalise all future whistle-blowing.
Manning's defence has always contested it could not be proved he had actual knowledge his actions were deliberately handing information to an enemy of the United States.
They argue instead that he could well have 'inadvertently, accidentally, or negligently' handed over intelligence which would not be enough to prove a charge of aiding the enemy.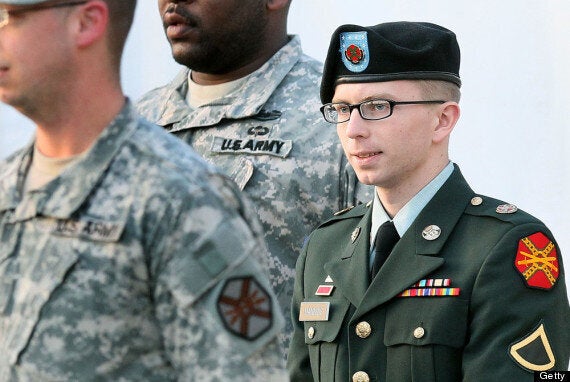 Manning being escorted from his trial
The prosecution insisted they would.
This would effectively mean any future dissemination of secret intelligence to any publication that a terrorist could have access to - which is practically any - will be treated as aiding the enemy.
Ben Wizner, director of the American Civil Liberties Union's Speech, Privacy and Technology Project, told the Washington Post: "The aiding-the-enemy charge is not only unconstitutional, it is unnecessary.
"The point of charging Manning in this way is to transform what was widely seen around the world as a valuable leak into treason. The government purports to criminalise any information that is published somewhere where the enemy can see it."
Manning, 25, has 22 charges against him relating to sending Iraq and Afghanistan battlefield reports, State Department diplomatic cables, other classified records and two battlefield video clips to WikiLeaks in 2009 and 2010 while working as an intelligence analyst in Baghdad.
He has pleaded guilty to sending hundreds of thousands of classified documents to the anti-secrecy website WikiLeaks, in violation of military regulations but not in violation of federal espionage laws.
There is evidence that information given to Wikileaks was seen and used by Al Qaida for research and propaganda uses.
Documents recovered from the house in which Osama bin Laden was killed purport to show this and have been presented as evidence in the trial.
Professor Yochai Benkler, co-director of the Berkman Center for Internet and Society at Harvard Law School, testified at the trial last week, echoing the sentiments of Wizner.
He said: "[If] handing materials over to an organisation that can be read by anyone with an internet connection, means that you are handing over to the enemy—that essentially means that any leak to a media organisation that can be read by any enemy anywhere in the world, becomes automatically aiding the enemy.
"That can't possibly be the claim."
WikiLeaks' founder Julian Assange, who is in exile inside the Ecuadorian Embassy in London, said: "Bradley Manning is America's foremost political prisoner. Today's events confirm that. Both the UN and the US military have formally found him to have been mistreated. All those involved in the persecution of Bradley Manning will find cause to reflect on their actions."
Manning had spent 1,101 days in confinement before his trial had even begun.
If convicted of all charges he could face life plus 149 years in a military prison.
Related