Carl Froch will defend his IBF and WBA world super-middleweight titles against George Groves later this year, it has been announced.
The all-British clash will take place in late November or early December at a venue yet to be confirmed.
"I'm excited the first defence of both my belts is a big domestic clash," said Froch.
"I am a proper fighter and a proper champion and I will always face my mandatory challenger rather than vacate the title. I've known George for a while, I've sparred with him and watched him grow and now he's my mandatory - I will be pouring everything into my preparation for the fight and George will face the very best of me."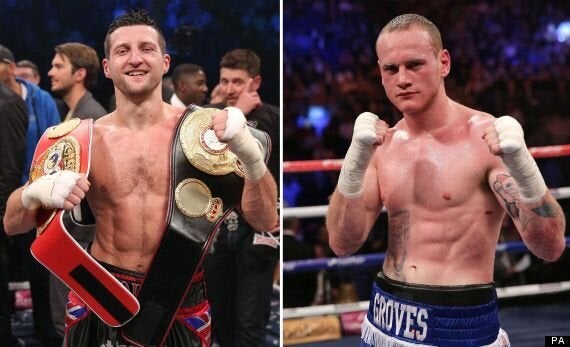 Froch will defend his belts against Groves at the O2 Arena
Froch added: "It is better this way than a low-key overseas opponent as this fight will relight memories of some of the great all-British clashes and with World titles on the line it's a really huge occasion and one that will grab the attention of British sports fans."
Groves said: "This is the biggest fight of my career and being a World champion is something that I dreamed of as a kid.
"I'm well ranked across all the governing bodies but fighting Carl is the one that I wanted the most. He is a big name in the UK and a well-respected champion around the world, and I have a great team around me that can put together the right game plan to beat him and become a World champion and a major force in the super middleweight division."
Speaking to Sky Sports News, Froch added: "To defend my titles in England and against a British fighter in George Groves, it's exciting not just for me but for the fans as well.
"I've boxed for world titles in my last 10 fights, but it's always been against international fighters. So to fight finally against someone else who's English, it's a real treat for fans.
Carl Froch On The Rise Of George Groves
"It's a domestic [world title] fight and it rarely happens in boxing.
"He's got to bring his A game. Let's hope he comes to fight and not dance around the ring and keep safe."
Groves comes into the fight undefeated in 19 professional bouts, but rejected the suggestion that his shot at a world title had come too soon.
"The good world champions, they usually challenge for a world title around the 20-bout mark, around my age - 25 - and they usually have to take on older, more experience guys. They don't always come up short," he said.