As children of the 80s, HuffPost UK Lifestyle didn't go very far without our My Little Pony toys.
Innocently cantering its small purple hooves along the top of the sofa, while wearing brightly-coloured leggings and scrunchies, we were happy. Happy and free from the hyper-sexualised toys that line the toy aisle today.
If our inner six-year-old could see the new Equestria Girls -- think My Little Pony meets Barbie -- she'd probably burst into tears.
The 2013 version of our much-loved toy is like the original but with longer legs, smaller waist and lots of eye make-up.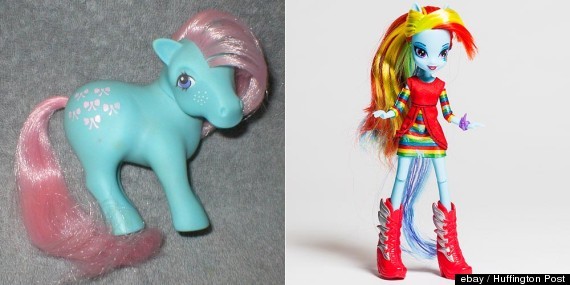 The original My Little Pony from 1983 (left), compared with this year's Equestria Girl
The Equestria Girls are supposed to show the ponies when they grow up and go to high school. We don't know about you, but we can't remember anyone looking like that at school...
"We are responding to the desire by our fans to experience the brand in more ways," John A. Frascotti, chief marketing officer at the toy's manufacturer Hasbro, told the New York Times. "They imagined themselves as which pony they would be or which pony they identified with the most."
See Also:
What Barbie Would Look Like If She Was A 'Normal' Woman
Six-Year-Old Girl Accuses 'Guess Who?' Board Game Of Sexism In Letter
The toys will also be the subject of a new film, "Equestria Girls" which is currently in production.
Is it just HuffPost UK Lifestyle or does it seem like we've taken a step backwards? With Goldieblox -- a toy designed to get girls into engineering -- hitting the shelves and Mattel's wholesome realistically-proportioned American Girl doll outselling Barbie, we thought we'd hit a turning point in gendered toys.
HuffPost UK Lifestyle are not alone in our outrage at My Little Pony's makeover. A quick poll of the HuffPost UK office (well, of HuffPost UK's My Little Pony fans) brought back the following comments.
"It's so sad! What is happening to this world?" - Sarah Dean, deputy entertainment editor

"It is really disturbing," - Jess Elgot, assistant news editor

"WHAT.HAVE.THEY.DONE?!" - Joanna Cross, video editor
What do you think of the evolution of My Little Pony? Let us know in the comments below.